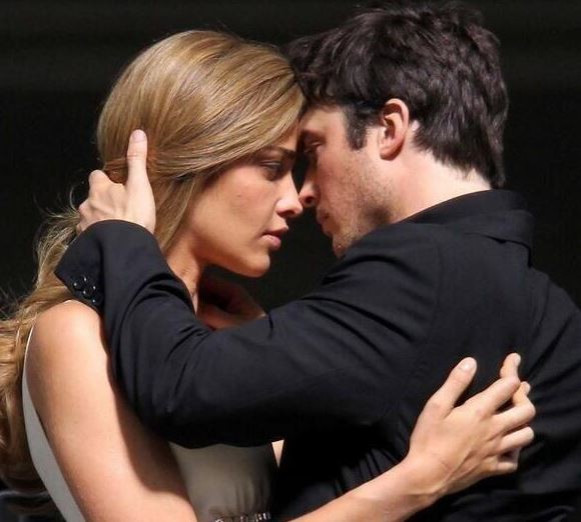 Vampire Diaries star Ian Somerhalder was seen getting intimate with Brazilian model Ana Beatriz Barros on the set of the Azzaro perfume campaign in Lake Como, Italy.
The 34-year-old actor, who was wearing a black shirt and blazer was photographed kissing the Sports Illustrated Swimsuit model, dressed in formal off-white gown.
"The scene is very hot," an eyewitness told InTouch Weekly, "They were kissing each other passionately."
Barros, who has done campaigns for Guess, Christian Dior, L'Oreal, Chanel and more leading brands was also spotted looking easy with Somerhalder's company.
Meanwhile, he also took to Twitter to describe the scenic surroundings of Lake Como.
"Lake Como-youre beauty is endless.Much equity in a peaceful lunch alone in ones underoos (underwear). Ill explain why Im here later-it's very cool&sexy," he tweeted, adding, "Not only is he one of my biggest heroes but he's smart too-George Clooney, now I see why you live here my friend...Solid choice"
Somerhalder, who parted from girlfriend and Vampire Diaries co-star Nina Dobrev, will reunite for filming the new season of the hit show.
"I think you become really good friends with that person when you see them everyday anyway so I think they obviously knew that getting into a relationship," a source told EntertainmentWise, "But I don't think it would be awkward for them. They are both well rounded people."