Nigeria hopes to engage with Iran in a diplomatic manner, the country's defence spokesman told IBTimes UK, referring to the warning Tehran issued after the Nigerian army arrested a Shia cleric in December 2015. Sheik Ibrahim al-Zakzaky, head of the Islamic Movement in Nigeria (IMN), was apprehended during a deadly raid at his house in Zaria, Kaduna state, after members of his sect were accused of plotting to kill Chief of Army Staff Tukur Buratai.
IMN was accused by the army of setting up a barricade on a road Buratai's convoy was travelling on during an official visit in the state. The sect denied the allegation and both sides accused each other of instigating violence that resulted in the death of hundreds of people.
Although the precise number has not been confirmed yet, Human Rights Watch said at least 300 Shias were killed and "quickly buried" by the army.
Following what has been dubbed as an "unjustified massacre" that sparked protests in several states in northern Nigeria, Iran urged the Nigerian government to release Zakzaky and respect Shia Muslims in the country.
Iran's Foreign Ministry Spokesman Hossein Jaberi-Ansari was quoted as saying: "We have used all those channels to warn them [Nigeria] regarding this issue. So hopefully the government... would adopt wise action given the sensitive situation."
Speaking to IBTimes UK, Nigerian defence spokesperson Rabe Abubakar said: "Iran is a very good partner of Nigeria and we hope to resolve the issue diplomatically."
Abubakar referred to Iran's warning as "a threat" which he said should be resolved amicably, given the "fantastic relationship with the Iranian government".
What is the Islamic Movement In Nigeria?
The Islamic Movement in Nigeria (IMN) is a religious and political organisation that aims to create an Islamic state through an Islamic revolution like the one that occurred in Iran in 1979.
Both Shia and Sunni Muslims are part of the movement, led by Ibrahim Zakzaky.
IMN members often hold processions, mainly in Zaria, to raise awareness of their movement, which also advocates the liberation of the Palestinian territories controlled by Israel.
When asked about why Zakzaky was still in detention, Abubakar said: "We should not speak about why he is still in detention. No one is above the law and we urge citizens to be law-abiding and to cooperate with the government.
"Zakzaky has been handed over to the relevant agency for appropriate action. We are not in any way in confrontation with any sect and groups have rights to associate, but this country has law and order, rules and regulations."
He added that the security situation in Nigeria was "extremely calm" and that the army was working relentlessly to fight Boko Haram terrorists.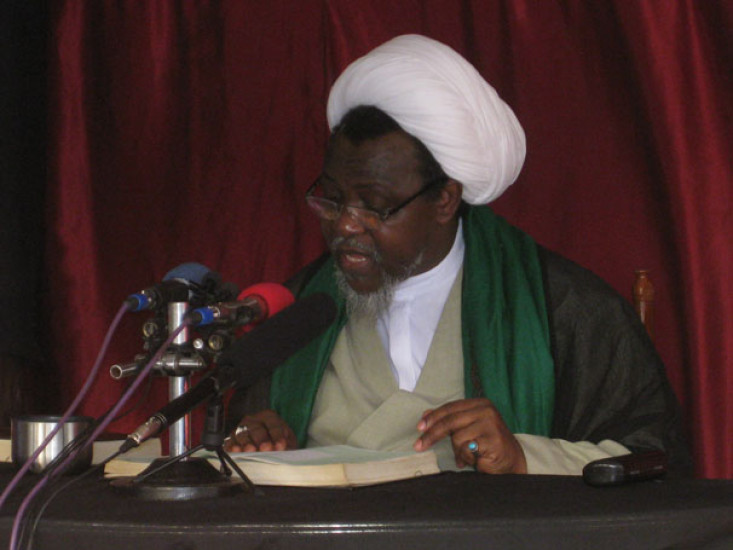 Urgent dialogue needed to avoid Boko Haram scenario
According to David Otto, CEO of UK-based global security provider TGS Intelligence Consultants, Nigeria should not repeat the mistake made with Boko Haram's former leader Mohammed Yusuf, whose death while in police custody sparked the group's deadly insurgence in 2009. Boko Haram has now killed between 17,000 and 20,000 people and was deemed the world's deadliest terror group, surpassing its ally the Islamic State (Isis/Daesh) in 2015.
"The Nigerian government cannot afford to keep making the same mistakes and should learn from past experiences," he said. "Considering that IMN has wide support from Iran and now that Shia cleric Shiekh Nimr al-Nimr was executed by Saudi Arabia, you never know where this is going to end.
"Should IMN receive more support from Iran, including weapons, I don't think the army will succeed in fighting the movement," Otto continued. "The army is already fighting Boko Haram in the north-east, while the south-east is also threatening with the Biafran movement. In the south-south, Niger Delta former militias are saying that if pro-Biafran leader Nnamdi Kanu is not released, Nigeria will be on fire.
The government should have an early serious dialogue with the Shias and with Iran. If they they don't have evidence against Zakzaky, they should release him, rather than inflame the situation. If he dies in custody, it will put the country in a mess."
Nigeria up close: Check out our Flipboard magazine