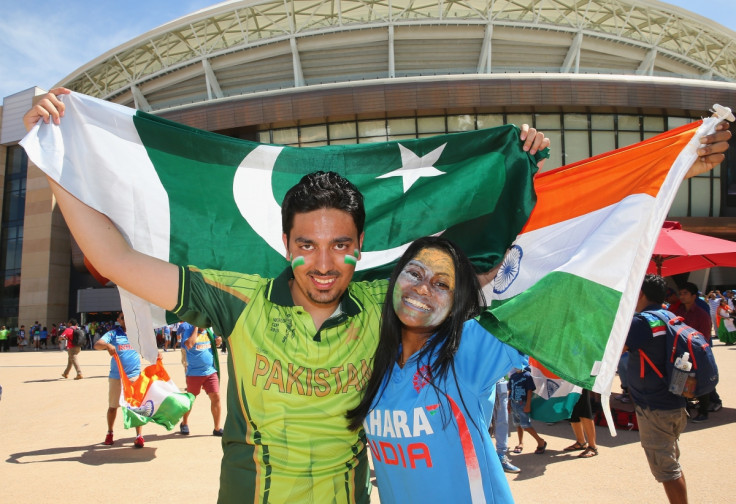 As the 2016 ICC World Twenty20 is underway, cricket fans around the world are using Facebook's "profile pic frames" to show their support for their respective countries' teams.
In India, Ram Subramanian has opted for the shades of green of the Pakistani team while across the border Sehyr Mirza has applied the Indian team's blue and orange frame to her profile picture.
Reacting to protests by certain organisations to Pakistan playing in India where the World Cup is being hosted, sports fans of both countries are proving that cricket is above political divisions. They have chosen to sport the other team's colours and logo with their social media image with the hashtag #ProfilesForPeace.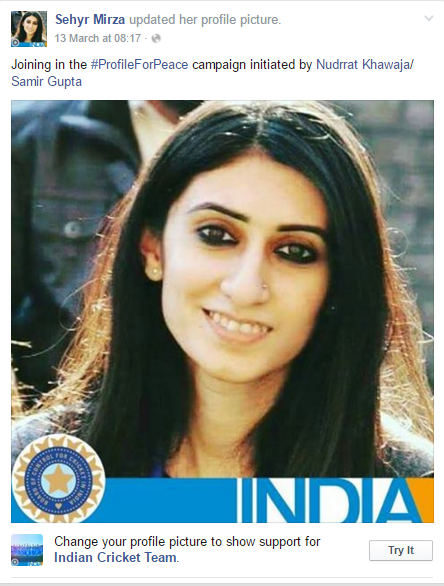 "I am from India and I don't hate Pakistan! Saw two Indians and two Pakistanis on my timeline who did the same, had to jump in," Subramanian, the director of a film production company, wrote on his Facebook page.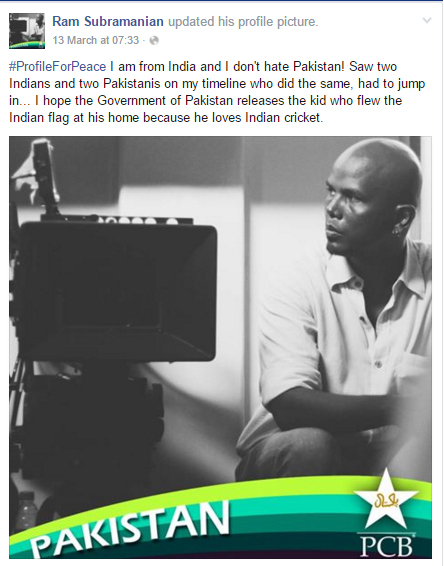 The initiative was started by Pakistani journalist Nudrrat Khawaja along with Samir Gupta from India. "Here was my friend Nudrrat making a public statement that just bowled me over. I decided to join her and changed my profile picture to support the Pakistan cricket team. Within twelve hours, I saw dozens of Pakistani Facebook friends changing their profile picture to support the Indian cricket team," Gupta wrote on the website of Aman Ki Asha, which is a platform to encourage friendship between the two countries.
The swap came to the notice of Facebook CEO Mark Zuckerberg who posted a message on his public profile commending the initiative. "When we designed the profile frames feature, we just wanted to help people show support for their favorite teams or a cause they believe in. But this story shows that the more connected we are, the more we realize that what unites us is more important than what divides us," he mentioned.
And while many find the move as one in the right direction, others view those altering their profile images as traitors. A number of people who used the profile frame to support the opposition team have received hate messages and been threatened.
Speaking about his Pakistani friend who changed his profile for the upcoming match between Pakistan and India on 19 March, Gupta wrote: "Tariq Jamil Khan, one of a family of proud Pakistanis who wear their patriotism on their sleeves. I knew that this would not go well with many of his family and friends.
"Sure enough, Tariq bhai (brother) was called a traitor by many of his Facebook friends. He faced a barrage of angry comments just like I did from some of my close family members on Facebook and WhatsApp."
Referring to him, and others like him as entrepreneurs of peace, he added: "They say that it is honourable to seek peace with the other country, but supporting its cricket team is taking this too far. One relative asked me how much the ISI has paid me to do this. Apparently we have hit a very raw nerve."
In January, Umar Draz, a Pakistani fan of Indian cricketer Virat Kohli was arrested and is facing a 10-year jail term for hoisting an Indian flag on his roof. "His act is against our country's sovereignty and is against the ideology of Pakistan," regional police officer Faisal Rana of the Punjab province, said at the time of the arrest.
For more of the latest T20 Cricket World Cup news click here.