Celebrities including Idris Elba, Simon Pegg, Helena Bonham Carter, Frankie Boyle, Gillian Anderson, Shappi Khorsandi and Stephen Fry have written to David Cameron asking him to allow child refugees in Calais to enter the UK.
In an open letter, 145 well-known figures from the arts, business and sport asked the prime minister to permit unaccompanied minors to join relatives they have in the country.
The letter read: "The recent announcement by the Calais prefecture to raze the Southern part of the 'Jungle' refugee camp in Calais is an act that if allowed to happen, will destroy the temporary homes of over 3,000 people including 443 children. Many of these people are amongst the most vulnerable in the camps as this is where the majority of families and unaccompanied minors currently live."
The signatories, who said in the letter they had 'seen first-hand' the suffering of those in Calais' jungle camp, requested that the British government do three things; "create an expedited process for the implementation of Dublin III's family reunion provisions so that all minors who are currently residing in the camps in Calais and Dunkirk with family connections in the UK are able to reunite with their loved ones with immediate effect.
"Ensure that those minors who have no legal right to come to the UK are protected and supported within France and that the French child protection process is also expedited to afford them the protection they are entitled to."
And "persuade the French authorities that the decision to destroy further parts of the camp in Calais is postponed until all the minors currently residing there are either given child protection within the French system or enabled to reunite with their loved ones in Britain."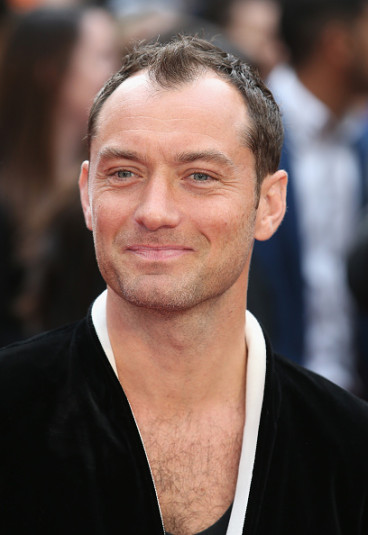 Following a February visit to the camp, actor Jude Law described the conditions refugees were forced to live in as 'horrific'.
He said in a statement: "Last week I visited the camp, and met some of these unaccompanied children who have no choice but to endure the horrific conditions of the Jungle.
"These are innocent, vulnerable children caught up in red tape with the frightening prospect of the demolition of the Jungle hanging over them. David Cameron and the British Government must urgently work with the French authorities to alleviate this humanitarian crisis."
One part of the jungle camp was bulldozed recently and a mosque, a church and a school demolished, while the inhabitants of that area of the camp were rehomed in converted shipping crates.
However, the threat of further demolitions will destroy the homes of many children and families who have already faced the trauma of being uprooted, charities say.
Liz Clegg, of the unofficial women and children's centre said: "We are horrified that the French Government have chosen to take this action and clear the southern part of the jungle in Calais, where the majority of families and children are presently living. This includes hundreds of unaccompanied children as young as 10. The UN, Europe and France itself have clear guidelines with regards to the treatment of minors."
The celebrities who signed the letter
Adam Ackland, Adam Selves, Alan Cumming, Ali Smith, Alice Temperley, Andrew O'Hagan, Antony Gormley, Anthony Grayling, Azzi Glasser, Barbara Broccoli, Beeban Kidron, Benedict Cumberbatch, Bianca Jagger, Bob Geldof, Brian Eno, Brian May, Brian Message, Chris O'Dowd, Chris Riddell, Sir Christopher Bland, Claire Van Kampen, Clare Morpurgo, Clare Short, Colm Toibin, Crispin Somerville, Danielle Lawrence, Danny Boyle, David Gilmore, David Lan, Dawn O'Porter, Dominic Cooper, Dominic Dromgoole, Douglas Booth, Elif Shafak, Emma Freud, Frank Cottrell Boyce, Frankie Boyle, Gary Linkeker, George Gabriel, Gillian Anderson Greg Williams, Hanif Kureishi, Hari Kunzru, Harriet Walter, Helena Bonham Carter, Helena Kennedy QC, Heydon Prowse, Ian McEwan, Ian Rickson, Idris Elba, Irvine Welsh, Jamie Byng, Jamie Catto, James Rhodes, Jeanette Winterson, Jefferson Hack, Jemima Khan, Jeremy Thomas, Jessica Hynes, Jim Broadbent, Joe Murphy, Joe Robertson, Johann Hari, John Hurt, John Tiffany, Jolyon Rubinstein, Rabbi Jonathan Wittenberg, Josie Naugton, Jude Kelly, Jude Law, Juliet Stevenson, Lee Hall, Lemn Sissay, Lliana Bird, Kamila Shamsie, Katharine Hamnett, Kellie Bright, Kirkland Newman Smulders, Dame Kristin Scott Thomas, Liz Saville-Roberts, Maddy Hill, Marc Quinn, Maria Friedman, Mariella Frostrup, Mark Cousins, Mark Rylance, Mark Tildesley, Matt Berry, Matt Haig, Michael Morpurgo, Michel Faber, Misha Glenny, Natalia Koliada, Neil Gaiman, Nick Hornby, Nikolai Khalezin, Noel Fielding, Noomi Rapace, Ol Parker, Omid Djalili, Patrick Smulders, Peter Gabriel, Philip Pullman, Philippe Sands QC, Polly Samson, Pope Francis, Richard Branson, Richard Curtis, Sir Richard Eyre, Richard Holloway, Rick Smith, Riz Ahmed, Rob Brydon, Roger Waters, Rowan Williams, Russell Brand, Russell T Davies, Sabrina Stoppard, Sam Hunter, Sandi Toksvig, Sanjeev Bhaskar, Shami Chakrabarti, Shappi Khorsandi, Shaun Usher, Sigrid Rausing, Simon McBurney, Simon Pegg, Sonia Friedman, Sophie Okonedo, Stephen Daldry, Stephen Frears, Stephen Fry, Stephen Mangan, Steve Coogan, Tahmima Anam, Terry Gilliam, Thandie Newton, Toby Jones, Tom Holland, Tom Odell, Sir Tom Stoppard, Tracey Seaward, Val McDermid, Yann Martel, Yusuf/Cat Stevens.
Clegg continued: "We have been in the jungle for six months working with women and children, and not a single representative of the government or main aid agencies have approached us to start identifying who these children are. If the eviction takes place it is likely we will lose contact with many of these children and they will be subjected to further suffering and great danger. We beg the government to hold off with this eviction until appropriate child protection measures are put in place."