TOWIE star Gemma Collins has walked out of I'm A Celebrity.
The Essex born reality star said being part of the show for three days had put her off TV for life.
She didn't get off to a good start when she was among the campmates selected to go straight into the celebrity slammer, while the others enjoyed an extra night of luxury.
And it didn't look promising when she had a hissy fit in the helicopter and demanded to be let out as the others were flown into the jungle.
Despite promising her fellow campmates that she would do better, Gemma spent the duration of her brief stay crying and complaining about the conditions and the lack of food.
"People who murder get treated better than this. Even a murderer gets fed three times a day," she said.
On the second day in the camp she dramatically suggested that if she didn't get a treat soon she was thinking of killing herself.
As she seriously contemplated quitting the show, she told fellow slammer cell-mate Craig Charles: "I've never felt so unhappy in all of my life. I cannot go another f***ing day in here. It's not on. It's absolutely ridiculous. I will never ever do a show like this again. It's put me off TV for life. I can't handle it. Just get me out of here. I certainly won't be coming back for more. Never ever."
Her constant whining adversely affected her cellmates with Craig saying: "I feel a bit duped by her. It's having a really negative effort on me and Nadia as well. It's bringing me down. So many negative vibes. It's constant."
Explaining her decision to quit she said: "I have to start living my life the way I want to live it and this isn't it. Do you know what, I don't want any of this. I just don't want to have to put myself through such extreme measures all the time. I just want to be normal. You have to get me out if here. Its made me feel panicked stressed. Its not even to do with food. I just want to get out. I'm not cut out for this. Its the right thing for me to do. Its not me having a diva fit," she insisted.
As she prepared to make her exit she told the campmates: "I'm so out of my comfort zone that it's made me realise the girl I once was. I have become a character, a puppet of Gemma that is not the real me and no amount of money would keep me here. I just want to be me and I don't need to sit in the jungle for three weeks and play up to the cameras. I'm tired of it, I just want to be me. This has been the most life changing thing I've ever done and the best thing I could have done for myself."
"It's not for me. I love myself too much to put myself through this. I'm very sorry if I've let anyone down. I'm a celebrity get me out of here," she declared securing her exit from the show.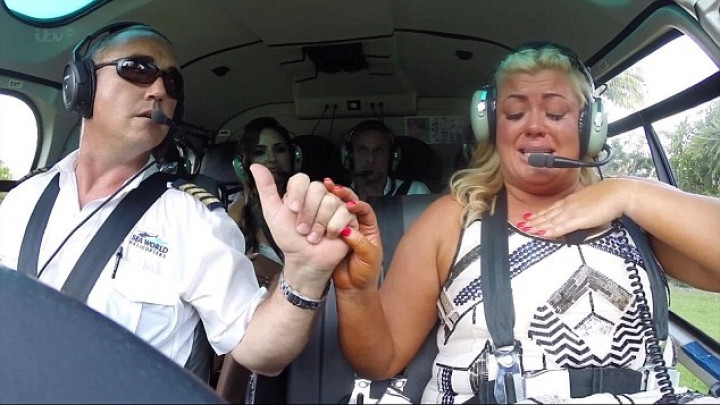 While the viewing public was unsurprised by her departure, her exit left some of her campmates bemused.
"She's a reality TV star. She's got not talent," said Michael Buerk. "She doesn't act, she doesn't sing, she isn't a writer. She s just somebody who has a completely engaging personality that the public has fallen in love with. If she has come to the conclusion that's not really her than what does that leave?"
Collins said she had no regrets about taking part and suggested she would refocus her life. "I believe that this is the start of me now, and nothing is going to change it."
She follows in the footsteps of Brian Conley, Nigel Havers and Katie Price, who are among the celebrities who have sensationally quit the show.