It's the bushtucker trial the celebrities fear the most.
Jimmy Bullard and former Playboy girl Kendra Wilkinson were voted by the public to take part in the dreaded eating challenge, ominously titled Terror Tavern.
The gut-wrenching dining experience called for the camp mates to sample a menu of ghastly delicacies from the outback.
Speaking ahead of the challenge, an apprehensive Kendra said: "I'm feeling the same way as I did before I jumped out of the helicopter, I don't know what's ahead but at least I have Jimmy with me. My stomach is in a knot and my heart is beating, I'm so nervous I'll just picture it as a real tavern."
While the set resembled a pub, it was a drinking hole with a difference, as the celebrities were required to throw a dart at a dartboard, which would determine whether they had to consume a small or large portion of the gruesome delicacies that awaited them.
Going first, Kendra was presented with a Prawn Cock-tail comprising Bush Buck Penis. Having struck an L for large on the dartboard, she was required to eat the top two pieces.
"It tastes like penis," she squealed. "It's in my throat; the penis is in my throat right now."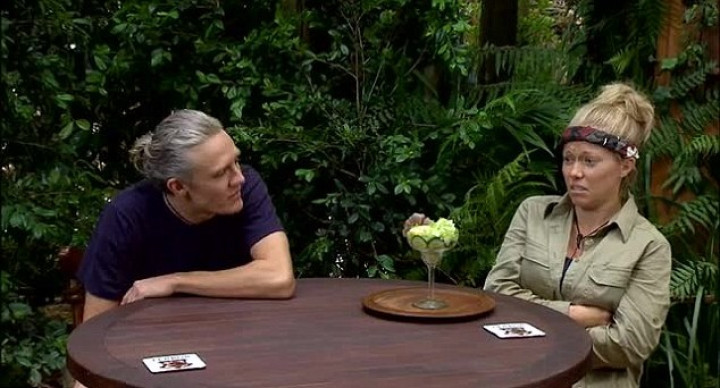 Next it was Jimmy's turn to chow down on a dish of Ham, Egg and Lips, specifically cows lips. Chewing on the morsel he revealed it had, "a bit of a beef taste." Swallowing it he said simply: "Easy."
Kendra's second dish was Chilli Con Carnage, a concoction of cockroaches, crickets, mealworms and cheese fruit blended together. Taking a spoonful she exclaimed: "Oh my god that was so wrong."
Jimmy's second dish was a Grub Sandwich made up of live witchetty grubs. He threw the dart and hit the small which meant he had to eat just one.
Kendra's third dish was a mixed grill made up of fish eyes. "Oh my god, I don't even eat seafood," she said. "Can I have some soy sauce or something?"
As the eyeball popped in Kendra's mouth, and brown puss oozed out, Jimmy quipped: "I didn't see her put brown sauce on that."
The pair inconceivably managed to make their way through a series of courses, one more gruesome than the next, including Pig Eye Steak (pigs eyes), Pork Snifflings (Pigs Snout), Mixed Nuts (sheep and turkey Testicles), Cheesy Nach-Toes (Ostrich Foot) and Hump Steak (camel hump).
They returned to the camp triumphant, having won all 10 stars and 10 meals for camp.
Something not absolutely everyone can say... #imaceleb pic.twitter.com/gQeUrZBpWL

— imacelebrity (@imacelebrity) November 20, 2014
After Gemma Collins sensationally quit the camp, Craig Charles also announced that he would be leaving after suffering a family bereavement.
Two more campmates have now arrived in their place. Former MP Edwina Currie made her entrance along with X Factor audtionee Jake Quickenden.
Explaining her reasons for appearing on the reality show Currie said: "It's an adventure at my sort of age if you stop doing adventures you might as well give up and die and I think there should be more older people on TV. I worked for Margaret Thatcher. I was taught by the master. I've dealt with a lot of creepy crawlies in my life."
Meanwhile, new entrant Jake has already caused a stir after hinting that he wouldn't be averse to a romance with fellow campmate Melanie Sykes.
The newly single singer said he was ready for "a fumble in the jungle."
I'm A Celebrity continues at 9pm on ITV.