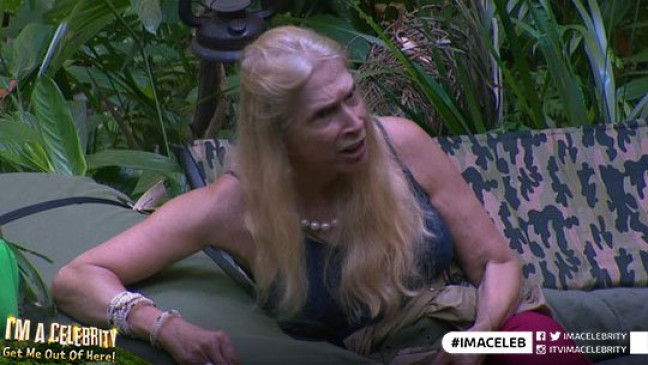 Lady C proved she is not for turning, as she refused to do a bush tucker trial. Following an ugly confrontation a day earlier, in which she launched into a vitriolic tirade at her fellow campmates, the 66-year-old was voted to do another trial by the public. In her defiance at the group, who she accused of alienating her, she said: "You're all going on a diet. I am not doing it."
Some of the other campmates attempted to persuade her, as did Ant and Dec with the promise of a flirtation, but true to her word, when it came to taking on the task dubbed Scarier 51, she flatly refused.
"After what happened yesterday, I am not prepared to put myself through unpleasant experiences to reward people who have ganged up against me, been abusive to me," she pronounced. "The idea that I will do anything for those jerks, if they were gagging with thirst and my urine would satisfy them, I would pee in the bush."
Well you can't say that @antanddec didn't try! #ImACeleb https://t.co/oSAcfncSTS

— imacelebrity (@imacelebrity) November 26, 2015
She went on to say: "Duncan [Bannatyne] is a vain old goat who can barely speak English, Tony [Hadley], the buffoon who doesn't have two thoughts in his head and Yvette [Fielding] who is just ridiculous and the public has already sussed that Brian [Friedman] lusts after the spotlight and they in their childish way, don't want to give it to him.
"And they have sussed that I'm not interested in the spotlight and therefore they are quite determined they are going to be entertained by me partly because I have no interest in the spotlight."
She added: "There are two elements in the camp and I wish to have nothing to do with them and I hope they wish to have nothing to do with me. Chris [Eubank] and Kieron [Dyer] tried to talk me out of it but I decided that if I was voted for any more trials that would be the last. I'm adhering to my decision and nothing has changed."
Her refusal to do the trial left the camp with just beans and rice for another night. "So now we are on rations of rice and beans because Lady C didn't even try to win some stars," said her arch camp nemesis Brian Friedman.
... and they've sent @Yfielding Susannah & Lady C to the #DangerZone #ImACeleb pic.twitter.com/DW0BaQmRCz

— imacelebrity (@imacelebrity) November 26, 2015
"Eating rice and beans is easier if you know someone has tried," said George Shelley. Tony Hadley said he wouldn't even want any food she had brought to camp while Duncan dismissed her refusal to do the trial as "a very selfish act." Returning to the camp empty handed, when asked if she did the trial she said defiantly: "Of course not."
Lady C later threw a hissy fit during the Danger Zone challenge to win immunity after she found herself in close quarters with a python. "I am not prepared to jeopardise my life and leaving my 22-year-old son motherless for entertainment," she declared dramatically. She had earlier thrown a full-on diva strop after Yvette Fielding collected the team's T-shirts, demanding that they be returned so that she, as team leader, could collect them.
While Lady C had initially won fans for her eccentricity and straight talking, her childish conduct and outrageous insults have resulted in fans on Twitter also turning on her, with viewers accusing her of ruining the show.
"Poor Yvette and Susanna having to now endure Lady C, I'd pick a Bush Tucker trial over that any day #ImACeleb :/," said one viewer.
"Please can someone at @imacelebrity please go in & kick Lady C out of the #Jungle! Waste of time!" wrote another.
Maybe Lady C will finally make a new friend in Camp #ImACeleb pic.twitter.com/R4ITKm5U7w

— imacelebrity (@imacelebrity) November 26, 2015
Earlier today her son, Dima defended his mother. The 22-year-old, who is currently in Australia, told ITV's This Morning: "She's someone that when she says something, she means it and this is one perfect example of what we saw yesterday. She said that she wanted to stop talking about it, Jorgie asked another question, she answered the question and then everybody started ranting on to her and started to attack her. So she's not having it", he added.
He explained that while the campmates want her out, unless she is voted off the show by the public, she would not leave the jungle of her own accord. "Oh no no no. She's not going to walk out," Dima claimed, before adding: "She's not the losing type."
I'm A Celebrity ... Get Me Out of Here continues on ITV.
Lady C is something from a nightmare

— Michael Armand (@michael_armand1) November 26, 2015
I still love Lady c, the fact that everyone hates her and she literally doesn't care is a legendary trait

— Will (@willszrbs) November 26, 2015
#LadyC has officially ruined @imacelebrity - For a show that's meant to be fun and a laugh. She shouldn't be there. #ImACeleb

— Christopher Marsh (@chrismjmarsh) November 26, 2015
#LadyC has put every person down whether to their face or behind their backs from day 1 - she's outrageous! #ImACeleb #hideouswoman

— Vivienne Kauffer (@VivienneKauffer) November 26, 2015
Why did Lady C decide to go into the jungle if she didn't want to do it in the first place!?! #ImACeleb

— Jonathan Jones (@Sweetwoo) November 26, 2015