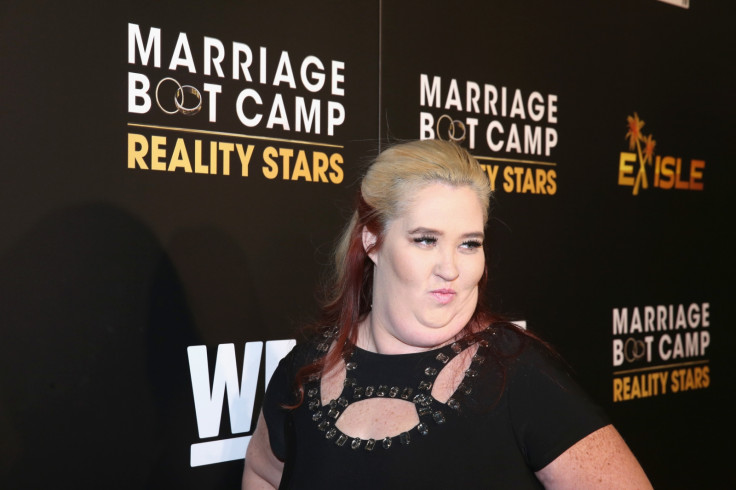 Sugar Bear aka Mike Thompson's upcoming wedding with his bride-to-be Jennifer Lamb has been taking a toll on his ex and reality TV star Mama June Shannon. After a dramatic phone call in the 24 March episode of Mama June: From Not To Hot, the bride-to-be was seen taking a dig at the weight loss champion as the wedding planning came to a halt.
As it turns out, Lamb was trying to work out some means for Sugar Bear's daughter – Alana Honey Boo Boo Thompson – to attend her father's nuptials. But despite repeated attempts, she failed to strike a chord with Alana's mother as Mama June dismissed her phone call.
A furious Lamb then shot back at Sugar Bear venting out her frustration following the call. "Mike Thompson! Your ex is just stupid and off the chain," she shouts at her to-be-husband.
When Mike retorts and says, "I could've told you that a while back," it further aggravates the situation and Lamb retaliates by hurling more abuses at Mama June. "Just stupid! I am so tired of June! I'm done with this b***h, she better watch out," Sugar Bear's fiancée says throwing her arms in resignation.
The latest feud between Mama June and Lamb is said to have erupted over the participation of 11-year-old Honey Boo Boo in the wedding. Things went south between the ladies when Mama June declined to receive Lamb's phone call to discuss her daughter's schedule.
"I don't have time for Jennifer's drama right now, so I'm ignoring her calls, she seriously attributed to my emotional eating and I'm not going to let her get to me this time," the reality TV star is heard saying in a voice-over.
Unfortunately, it was Honey Boo Boo, who was caught in the crossfire between her mother and her father's new wife.
"Jennifer's been calling, I think it's about my dress," Alana asks her mother. But, upset with the circumstances and her latest surgery Mama June angrily shoots back saying, "I don't give a s**t what that b***h has got to say, I hope she trips over her own dress."
Mama June: From Not To Hot airs on Fridays at 10 pm EST on We TV.