From being the butt of all superhero jokes to standing out tall and strong, the evolution of Aquaman is as much to be credited to Jason Momoa's towering personality along with director Zack Snyder's vivid style.
In the brand new Justice League trailer the actor shares screen space with stars like Ben Affleck (Batman) and Gal Gadot (Wonder Woman), yet his character as the King of Oceans is winning over the internet.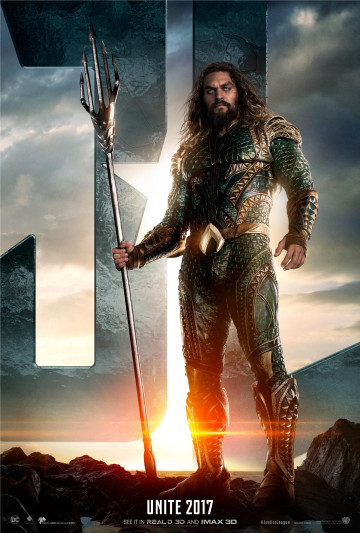 Warner Bros dropped the first official trailer for their upcoming ensemble movie – after the Comic Con's first look – on Saturday (25 March). While the moderate appeal of the previous DC movies and the not-so-revealing trailer are keeping fans' expectations low, Aquaman is clearly grabbing eyeballs this time around.
"It is quite obvious that Jason Momoa is gonna steal the show as Aquaman in #JusticeLeague. And, I loooove it (sic)," an excited fan shared along with a GIF showcasing the scene where Arthur Curry aka Aquaman controls the menacing oceans with his weapon – the trident.
The same scene of exploding waves seems to have struck a chord with fans as another viewer tweeted, "And here we have Jason Momoa facing the explosion of all ovaries."
Interestingly, the fan-following of this 31-year-old American actor is not just limited to women, as the Twitterverse is collectively drooling over his rogue style. Highlighting the trend initiated by Aquaman, a fan observed: "The #JusticeLeague trailer is spawning a lot of discussion about Jason Momoa that starts out, "I'm not gay, but...."
While fans have taken a liking to DC's King of Atlantis, some loyalists still remember Momoa for his robust portrayal of Khal Drogo in the hit HBO series Game Of Thrones. Twitter users drew parallels and soon a new trend began of using GOT references to appreciate Momoa's latest character.
"#JasonMomoa's #Aquaman is about to be everyone's 'Sun, Moon, and Stars.' He is the stallion that mounts our worlds. Yum. #DC#JusticeLeague," one Game Of Thrones follower tweeted.
However, in the DCEU, Momoa will be playing a key role as part of the League of Earth's superheroes, who have united to fight some unknown threat. Following his role in Justice League, the actor will be next seen playing the titular character in a solo Aquaman film.
Justice League hits theatres on 17 November 2017, while Aquaman has been postponed for a Christmas release on 21 December 2018.
Below are more tweets as fan react to Momoa's Aquaman: