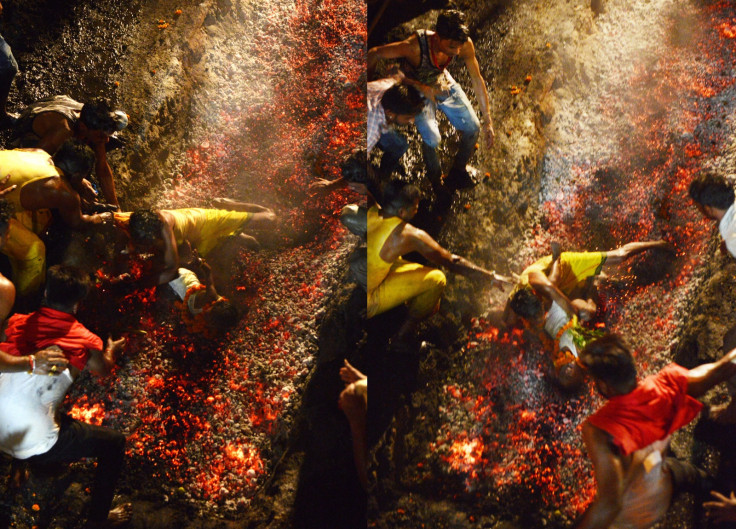 A six-year-old boy is being treated in hospital after he suffered serious burns when his father accidentally dropped him on hot coals, in the North Indian state Punjab, Jalandhar. The father was walking barefoot on hot coal embers as part of a religious ritual when he lost his balance and fell.
The people present rescued the child, named Kartik, and took him to hospital after his family refused to accompany him, saying they had faith that god would heal him, The Times of India reported.
"The boy has burn injuries on his limbs and on one side of his trunk. The father has also sustained about 15 percent burns. I think it will take at least five to seven days for their wounds to heal," doctor Jangpreet Singh told AFP.
"I have provided them financial assistance of 10,000 rupees (£105) and sent them to Punjab Institute of Medical Sciences," the Press Trust of India quoted local MLA (Member of the Legislative Assembly), Manoranjan Kalia as saying.
A devotee named Bablu, told DNA, "People walk on the hot coal to get their wishes fulfilled. Whoever passes this 'fire test', his wish gets fulfilled. We have been following this ritual for the last 70 years. Many prominent ministers come to this fair."
Scores of devotees gather for the Maa Mariyamma festival in Punjab's Jalandhar city. In an ancient Hindu festival that is still practised, devotees must fast for at least seven days before walking on fire in honour of their deity.
According to reports, a similar incident happened three years ago when a mother carrying her daughter slipped and fell on the hot surface.