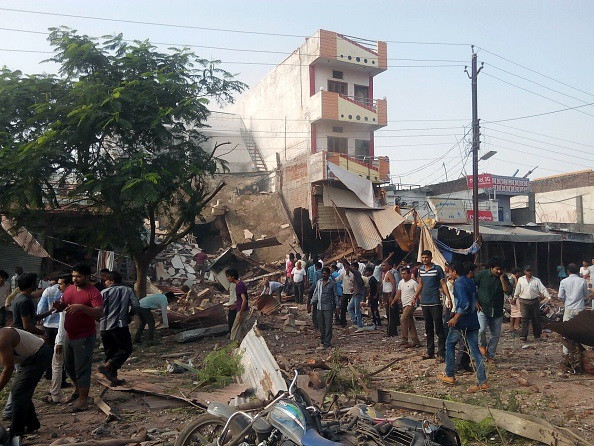 At least 82 people have been killed when a huge pile of explosives went off in the Indian state of Madhya Pradesh. At least 49 people were injured in Petlwad in the Jhabua district when the blast ripped through a restaurant filled with workers and schoolchildren eating breakfast.
The exact cause of the blast is yet to be confirmed, early reports suggested that a cooking gas cylinder was to blame. Rescue efforts are still continuing, with an adjacent building has been evacuated and number of structures in the vicinity were extensively damaged in the explosion.
The blast was said to have taken place at 8.30am (3am BST) according to Indian police – who believe a large amount of explosive material used for mining caught fire. Chief Medical Officer Dr Arun Sharma told PTI news agency that: "So far, 82 people have been killed in the explosion and till now, we have performed the autopsy of 60 people."
The restaurant was close to a busy bus stop and the force of the blast knocked down a neighbouring building and damaged several others. The exact number of casualties will be known once the rescue operations are complete as many people are suspected to be trapped in the rubble.
State Home Minister Babulal Gaur stated afterwards that a high-level inquiry has been ordered to attend the area of the blast. The Indian National Disaster Response Force (NDRF) has been dispatched to Jhabua to help in the salvage operations of the collapsed building.
"A team equipped with gadgets to operate in collapsed structures has been sent to the accident site in Jhabua from Vadodara in Gujarat. The team will assist local administration in retrieval operations," NDRF Director General O P Singh said.
The town of Petlawad is about 590 miles south of New Delhi and mining is common nearby. "It looks like someone had stored those explosives, the ones used in mining, in one of the buildings. But only further investigation will reveal the exact details," the AFP news agency quotes senior district police official Seema Alava as saying.