A light aircraft crashed in the Indian capital of New Delhi killing all 10 people on board. Eight bodies from the wreckage of the Beechcraft King Air plane were recovered, while emergency services were working on retrieving the remaining two.
The aircraft – carrying India's Border Security Force (BSF) personnel – burst into flames as soon as it came down and crashed into a wall. The pilot of the 20-year-old twin-engine plane alerted the ground personnel about a technical glitch within minutes after take-off.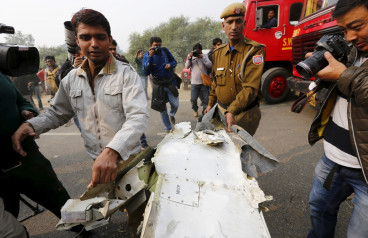 Delhi's Air Traffic Control (ATC) asked two other aircraft approaching the Indira Gandhi International Airport to be on stand-by clearing the way for the doomed flight when it was attempting to land. While nearing the airport area, the aircraft lost control and rammed into a sewage treatment plant. Thick plumes of smoke hit the sky while debris of the plane lie scattered around.
"It is unfortunate that all 10 people including the pilots have died in the crash. It is a matter of probe what led to the crash. We can only tell after the inquiry what were the reasons or lapses resulted in this incident," said Union Minister of State for Civil Aviation Mahesh Sharma.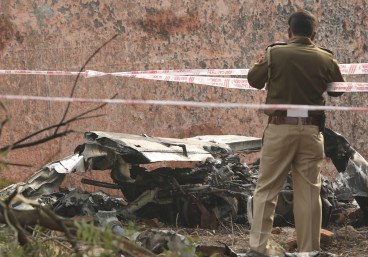 The flight– manufactured in 1994 and operated by the BSF – also injured two people when it came down. "We saw the plane flying really low and could see fire coming out of it too. After the plane crashed, I saw two bodies with deep cuts on their neck and hands," a local resident told The Hindu.
Officials have ordered an investigation into the incident. Prime Minister Narendra Modi wrote on Twitter: "Pained by the loss of lives in the BSF plane crash in Delhi. My thoughts are with the families of the deceased."