Dozens have died and hundreds more injured in riots in northern India after a flamboyant Indian spiritual leader was convicted of raping two female followers.
Gurmeet Ram Rahim Singh is the head of the controversial Dera Sacha Sauda sect, which claims to have more than 60 million followers around the world.
The 50-year-old is known as 'the guru in bling' for his colourful clothes, ornate jewellery and appearances in a half a dozen music videos. He is has also picked up the nickname Rockstar Baba.
Singh was found guilty of the 2002 rape of two women at the headquarters of his sect in Sirsa, by a court in Panchkula in the northern state of Haryana.
More than 200,000 of his followers flocked to the town to hear the end of the trial. As the guilty verdict filtered onto the streets the Indian army was forced to use water cannons as the angry crowd threw stones, torched vehicles and set fire to government buildings.
Singh was taken into custody and is being held in a jail in the nearby town of Rohtak until his sentencing on Monday (28 August), say prosecutors.
A curfew has been imposed in three of Punjab's largest cities as hundreds of incidents of violence were reported.
Delhi, the Indian capital, is also on high alert, with at least seven reports of arson across the city.
Singh, one of the most powerful men in India, runs the 69-year-old sect from its ashram headquarters on a sprawling, 1,000-acre Haryana property that includes a hotel, cinema, cricket stadium and schools.
Murder allegations
The rape allegations, which Singh has denied, date back to an anonymous letter sent to the Indian prime minister in 2002. Scrutiny of the ashram grew when a journalist investigating Dera Sacha Sauda was shot dead in the same year.
India's Central Bureau of Investigation alleges Singh was involved in murder, and the sect leader, who denies involvement, faces an ongoing trial in that case.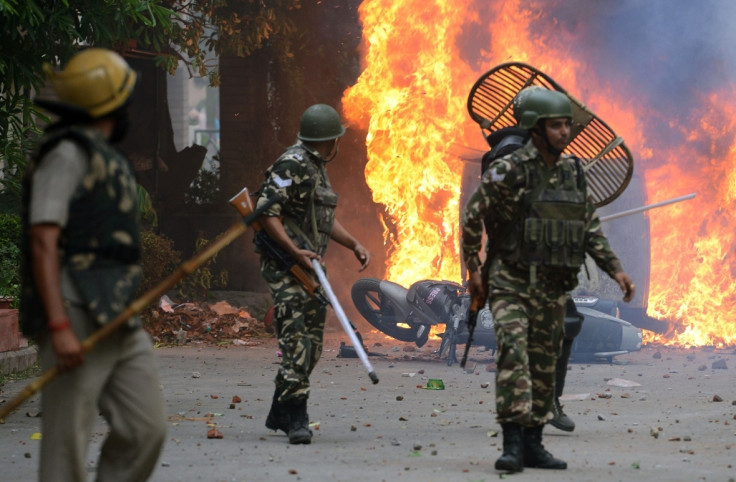 Gurus play an important role in the sub-continent, enlightening the lives of many Indians, guiding decisions both sacred and mundane, but few have attracted the amount of attention that Singh has in recent years.
He has also been accused of forcing 400 of his followers to undergo castration so they could "get closer to god".
He told the Times of India that the last charge was "100% false. I never asked anyone to do so".
Singh was just 23 years old when he took over the sect that describes itself as "a non-profit social welfare and spiritual organisation..
Based out of northern India, the sect runs 46 centres across India and the world.
The sect follows the teachings of Mastana Balochistani, who founded the group in 1948. On its website the group describes itself as a "social welfare and spiritual organisation that preaches and practices humanitarianism and selfless services to others".
The group promotes the power of meditation as well as a diet that bans meat, eggs and fish. The sect is also against drugs and alcohol.
Religious divisions
In the past, he has been criticised for mocking other religious figures.
He angered the Sikh community in 2007 when he appeared in an advertisement, dressed like Guru Gobind Singh, a revered Sikh guru.
In 2015, a Hindu organisation lodged a complaint against him over a video where he posed as the Hindu god Vishnu.
Over the years, Singh has championed social reforms such as organising cleanliness drives and blood donation camps.
The sect organised a mass marriage in 2010 where more than 1,000 followers "volunteered" to wed sex workers.
His official website describes him as a "spiritual saint, philanthropist, versatile singer and all-rounder sportsperson".
He has produced three films, which have been released in several Indian languages after weeks of controversy. In the trailer for one of them, MSG: Messenger of God, Singh performs daredevil stunts, fights aliens and takes on other villains.
His large following has seen politicians across the spectrum court his support. The sect has backed both the ruling Bharatiya Janata Party (BJP) and the opposition Congress party at different times.