Indonesia has issued a tsunami warning after an earthquake with a preliminary magnitude of 8.7 hit the seabed off the westernmost province of Aceh
The US Geological Survey (USGS) said that the quake was centred 20 miles (33km) beneath the ocean floor 308 miles from the provincial capital of Banda Aceh.
It was initially reported as 8.9 magnitude but was revised down to 8.6 by the USGS.
Aftershocks were felt as far away as Singapore, Thailand and India.
Indonesia, India, Sri Lanka, Australia, Myanmar, Thailand, the Maldives and other Indian Ocean islands, Malaysia, Pakistan, Somalia, Oman, Iran, Bangladesh, Kenya, South Africa and Singapore.
Reuters has reported that people in the Aceh were making their way to higher ground.
A tsunami watch means there is the potential for a tsunami, not that one is imminent.
Victor Sardina, a geophysicist on duty at the Hawaii-based institute, told Reuters: "It doesn't look like a major tsunami. But we are still monitoring as tsunamis come in waves."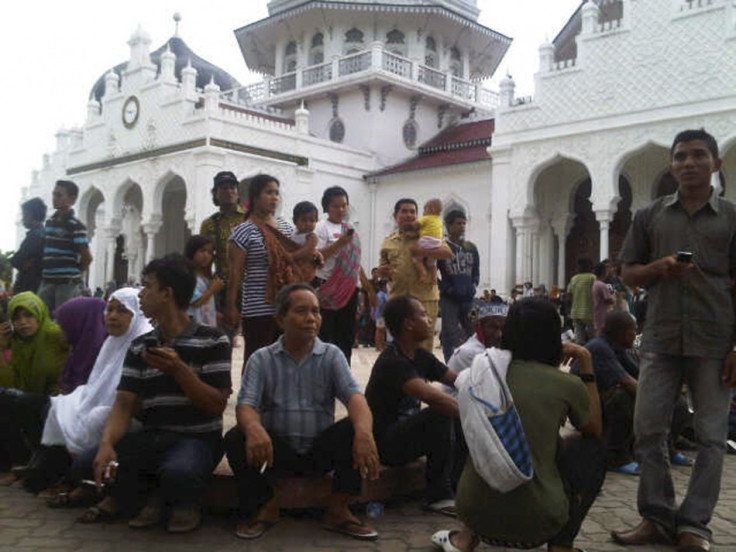 Indonesia issued another tsunami warning after an aftershock with a preliminary magnitude of 8.2 shook the western coast of Sumatra. Indonesia's geophysics agency says it has detected a rise in sea water level in west and north Aceh of up to 0.8m.
Residents in Phuket, Krabi, Ranong, Phangnga, Trang and Satun were ordered to move to higher ground because of a possible tsunami, an official with Thailand's National Disaster Prevention Centre told Reuters by telephone. Phuket airport was temporarily closed as a precaution.
Indonesian President, Susilo Bambang Yudhoyono, said "there is no tsunami threat although we are on alert," speaking at a joint press conference with visting British Prime Minister David Cameron.
The tsunami centre's warnings said quakes of the magnitude of the latest tremor "have the potential to generate a widespread destructive tsunami that can affect coastlines across the entire Indian Ocean basin".
Pacific centre analyst has told the BBC that the off-shore quake caused the Earth to move horizontal not vertical, so chances of tsunami small.
A wave measuring 17 cm (6.7 inches) has been generated in the Indian Ocean and is headed for the Aceh, a Pacific Tsunami Warning Center official said.
Indonesia is on the 'Ring of Fire', an arc of fault lines circling the Pacific Basin that is prone to frequent earthquakes and volcanic eruptions
A giant 9.1-magnitude quake off Indonesia on 26 December, 2004, triggered a tsunami in the Indian Ocean that killed 230,000 people in 13 Indian Ocean nations, nearly three-quarters of them in Aceh.