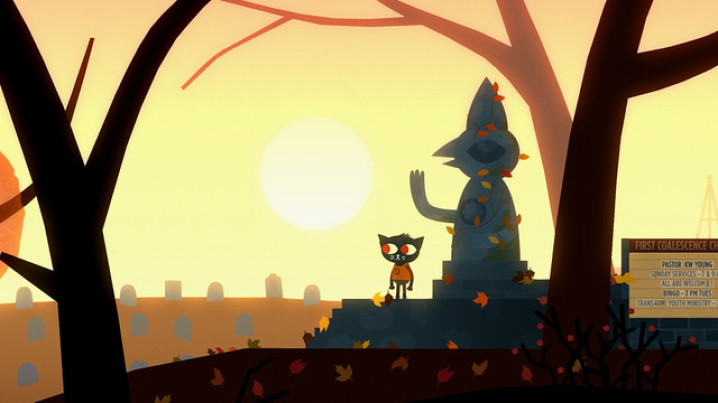 After nearly three years in development, Infinite Fall's darkly beautiful adventure game, Night In The Woods, is set to launch on 10 January, 2017 for PS4, PC, Mac and Linux.
The game follows the story of 20-year-old feline college dropout Mae Borowski, who returns to her home in Possum Springs, a small town in the middle of nowhere. However, things seem to have changed while she was away and strange things are starting to happen.
"At the edge of town, past the old, burned out basketball court, there's something in the woods," the developer teases.
Originally set to be released sometime this fall, the developer announced on Twitter that the team "needed a few extra weeks" to polish up the game.
Initially announced in October 2013, the indie adventure game's crowdfunding campaign managed to reach its goal in just 26 hours, earning $209,000 (£170,730) and surpassing its initial funding goal of $50,000.
Infinite Fall's co-designer and art director Scott Benson describes the quirky Kickstarter-funded game as "one that is very focused on characters, dialogue, story, and exploring a big world that unfolds as you go."
"How you choose to spend your time in Possum Springs will determine what things you end up doing and who you'll get to know," Benson writes. "You'll need more than one playthrough to see all of it."
In a long update via the game's Kickstarter campaign page, developers Alec Holowka, Bethany Hockenberry and Benson offered some insight into the development process, adding that they plan to release a brand new trailer and "some other cool stuff" between now and the January release.
"The E3 demo hit way bigger than we expected and got a lot of press," the developers wrote. "We also did a lot of shows that year. And for solistice 2013 and 2014 we released supplemental games. In reality we are just pretty productive and got very lucky with people caring about the stuff we were making early on after the Kickstarter. Making things in public is weird, huh?"
"At E3 we were nominated for a best of show award from IGN, and just seeing our name on a list next to the new Zelda was some sort of lifetime achievement for 11 year old me at least," they continued. "Our original demo has also been on display in the Seattle EMP Museum for the past year as well. This is all kind of nuts. We're as shocked as anyone that people are so into our weird little game. We're very lucky."
Night In The Woods is slated for release on 10 January for PS4, Windows PC, Mac and Linux.