Inspectors have condemned a prison where inmates found it easier to get hold of drugs than clothes, bedsheets or books.
A scathing report into conditions at HMP Hindley said prisoners experienced an "unjustifiable" amount of time locked up in their cells, often for more than 24 hours at a time.
The adult male prison, in Greater Manchester, was also found to be blighted by high levels of violence, inadequate support for those who self-harm and "filthy" wings where mould and fungus grew.
Inmates were denied opportunities to rehabilitate, inspectors revealed.
Peter Clarke, chief inspector of prisons, said: "The regime at Hindley was one of the worst, and possibly the very worst, that inspectors had ever seen in this type of prison.
"The length of time for which young adults and adults alike were locked up was, in our considered view, unnecessary, unjustifiable and counterproductive. Almost every aspect of prison life for the prisoners was adversely affected by the regime."
It comes as the prison service suffers record levels of violence and self-harm due to a toxic mix of overcrowding and staff cuts.
Earlier this month up to 10,000 prison officers staged a walkout in protest at the conditions behind bars, saying the prison service was in "meltdown".
A string of high-profile incidents – including an audacious prison escape at HMP Pentonville and rioting at HMP Bedford – have piled pressure on Justice Secretary Liz Truss to quicken the pace at which the government's prison reform programme is implemented.
Inspectors were shocked by the conditions at HMP Hindley when they visited in July.
Their report, published on 29 November, said many inmates were not only denied the chance to attend rehabilitation classes, but that they weren't even given basic amenities like bedding or daily showers.
About half of the prison's 515 inmates said it was easy to get hold of illegal drugs, including new psychoactive substances blamed for fuelling violence behind bars.
They told inspectors it was "far easier" to get illegal drugs than it was to get clean clothes, sheets or books from the library. Sixteen per cent had developed a drug problem since entering the prison, inspectors added.
More than two thirds said they received less than six hours a day out of their cells, while frequent shutdowns meant the majority of prisoners would regularly experience being locked in their cell for more than 24 hours at a time.
Clarke said: "The frustration felt by prisoners was palpable, and this was hardly surprising. Many were locked up all day."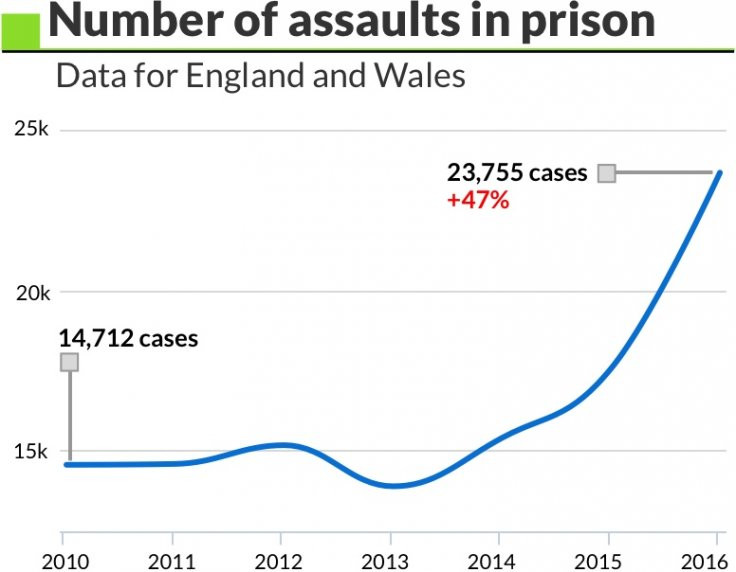 The Category C prison was built in the 1960s as a borstal before later being reclassified as a Young Offenders Institution. It was made into an adult prison in April 2015, holding convicts serving sentences of up to four years.
Clarke said there needed to be "fundamental change" if conditions at the prison are to improve, but also praised the "energetic" new prison governor.
He said: "To make progress, there needs to be a very clear recognition of what is good at Hindley, and also where there needs to be fundamental change. Many examples of good practice could be found in the chaplaincy, education and health care.
"The same could not be said for residential areas. There needs to be an honest appraisal of the culture that predominates among some staff in these areas.
"The governor needs to be supported by his senior team in the delivery of clear, proactive and intrusive leadership. Those who choose to stand in the way of change should have their ability to do so diminished. There is no good reason why Hindley should not become a safe, decent and respectful prison. There is also no good reason why standards should be lower than at similar prisons."
Michael Spurr, chief executive of the National Offender Management Service, said in response to the inspection report: "Since the inspection a detailed improvement plan was developed to address the weaknesses identified by inspectors and this is being closely monitored. Progress has been made to improve safety and purposeful activity with more prisoners engaged in high quality work and training opportunities.
"Additional staff have been transferred into the prison to support the improvements required and the governor is working closely with Greater Manchester Police to tackle gang behaviour and violence in the prison."