Thousands of prison officers are set to stage a strike today (15 November 2016) in protest at what's been called a "drastic increases in violence" in UK jails, their union has confirmed. The Prison Officers Association (POA) directed all its members to stage the strike action after talks with the government broke down regarding unsafe working conditions.
Steve Gillan, the POA's general secretary, said as many as 10,000 workers could take part in the strike which would mean prison staff only provide emergency cover.
The action starts following a series of high-profile incidents at prisons in the UK, including a massive riot in HMP Bedford involving hundreds of inmates, which is estimated to have cost £1m ($1.2m) in damage; an alleged stabbing in HMP Pentonville, with two prisoners also escaping from the same London prison; and three more breaking out of HMP Leyhill.
A POA spokesperson said: "The POA has consistently raised the volatile and dangerous state of prisons as chronic staff shortages and impoverished regimes has resulted in staff no longer being safe, a lack of discipline and prisoners taking control of areas.
The continued surge in violence and unprecedented levels of suicide and acts of self-harm, coupled with the recent murder and escapes, demonstrate that the service is in meltdown."
Official figures show that in the year to June, the number of attacks on prison staff rose by 43% to 5,954, which included 697 serious assaults.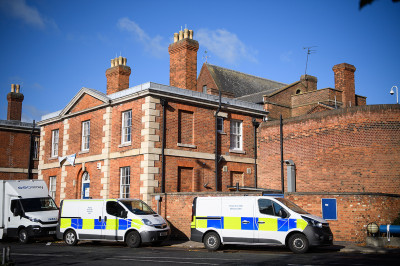 The Ministry of Justice (MoJ) recently announced a £1.3bn investment plan in new prisons over the coming five years, which includes providing 2,500 extra officers, drug tests for prisoners and more autonomy for governors.
An MoJ spokesperson said: "There is no justification for this action. We have been engaged in constructive talks with the POA over the last two weeks and have provided a comprehensive response to a range of health and safety concerns.
"The government has announced an additional 2,500 frontline officers to help reduce violence in prisons. We have well-established contingencies in place to manage prisons and keep the public safe, but we are clear that this constitutes unlawful industrial action, and we will seek remedy in the courts."