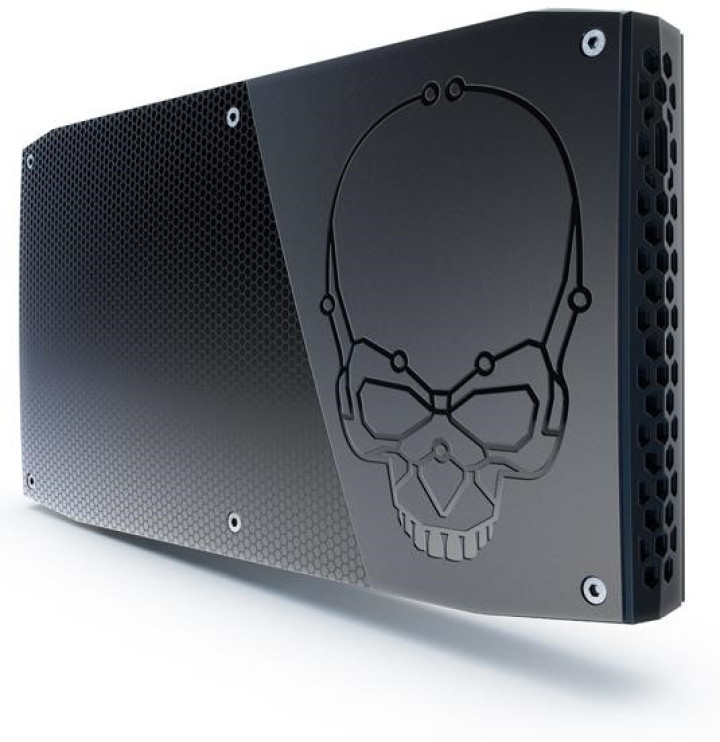 Intel has finally unveiled its much-anticipated Core i7 NUC mini PC at the Game Developers Conference in San Francisco, revealing details about the final model's look, specs, cost and release date. Code-named Skull Canyon, the pint-sized NUC6i7KYK mini desktop is mostly aimed at gamers and workstation users.
"By creating better ways for players to connect with one another (while feeling even more immersed in the game environment itself) Intel is moving gaming to the next level and giving gamers a more interactive and inclusive experience—no matter who they are or where in the world they may be," Gregory Bryant, corporate vice president and general manager of Intel's desktop clients platform, writes in a blog post.
With a skull etched on the lid, the new NUC features a 45-watt, quad-core 6th Generation Intel Core i7 processor and an Iris Pro 580 GPU, which includes 78 of Intel's graphics execution units and 128MB of stacked eDRAM to allow for "maximized performance for intense game play and intensive workloads".
One of its key features, however, is the Thunderbolt 3 port that allows users to use just one cable to connect to 4k displays, high-speed memory and storage devices or external graphics solutions such as the Razer Core. It also supports full USB 3.1 gen 2 transfer speeds of 10Gbps. Similar to the Core i5 NUC, the device also comes with a built-in Intel 8260 Wi-Fi (802.11 ac) and Bluetooth adapter.
Don't let the pint-sized NUC deceive you. It includes a decent port selection including a full-size HDMI 2.0 port, a mini DisplayPort 1.2 output, four USB 3.0 ports, a headphone jack, an SD slot that can accommodate up to 512 GB, a gigabite LAN port and an IR sensor for use with remote controls.
"The Skull Canyon kit enables the DIY gaming enthusiast to easily create a highly customizable, transportable, and immersive experience, with vividly rendered, seamless 3D gameplay," Bryant said.
If you're not too jazzed about the skull carved on the lid, a plain matte black lid is also included with swappable third party lids supported as well.
The barebones version of the Intel NUC kit starts at $650 (£456). A typical build that includes 16GB of memory, 256GC SSD and Windows 10 is estimated at $999. The NUC will be available for pre-order from Newegg.com in April 2016 and will begin shipping in May.