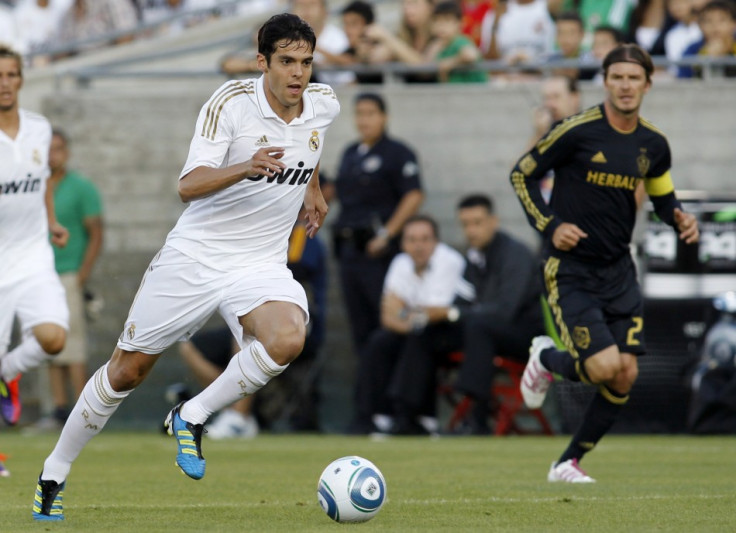 Inter Milan are said to be ready to make major summer moves for Real Madrid's Kaka, Liverpool forward Dirk Kuyt and Tottenham target Diego Forlan.
Reports in Spain claim that Real Madrid midfielder Kaka could be on the verge of a move to Inter Milan.
The former AC Milan star is said to be on the radar of Arsenal manager Arsene Wenger but reports in Spanish daily Marca, Kaka is a target for Inter Milan. Real Madrid manager Jose Mourinho is said to be ready to offload the £65m flop despite Kaka's insistence that he is happy at the Bernabeu.
Reports on Sunday claimed that Arsenal had highlighted the player as Samir Nasri edges closer to a move to Manchester City, however Inter are said to be favourites to land the player. Real Madrid are said to be ready to allow the player to leave on loan if Inter and Massimo Morratti agree to pay Kaka's £170,000 wages in full.
Sources in Italy claim that Inter Milan has made a surprise move for Liverpool forward Dirk Kuyt.
The Italian media has claimed that Inter Milan will offer Liverpool a sizeable amount to sign the Dutch midfielder who is said to be the wrong side of 30 for the new Liverpool project. The 31 year old was left out of Liverpool's first Premier League match and it is believed that Kenny Dalglish will use Jordan Henderson on the right hand side this season.
"Inter Milan have made an attractive offer for Dirk and he has to think about it," Jansen told RTV West. "However, the two clubs have yet to agree a deal," Dirk Kuyt's representative, Rob Jansen said.
Diego Forlan is said to want to leave Atletico Madrid for Inter Milan this summer
The Uruguayan's father has admitted the striker is now looking to leave the Vicente Calderon stadium and wants to leave before the end of the transfer window. It has been reported in the English press that Tottenham are interested in the player but Forlan's father has said his son wants to move to Inter Milan.
"Diego is unhappy at Atletico Madrid, for whom he has given everything and has been professional, although he has not been treated the same way. I hope Diego joins Inter and his agent is negotiating in Milan and Diego is anxious for things to be resolved," he told Radio station AM Libre.