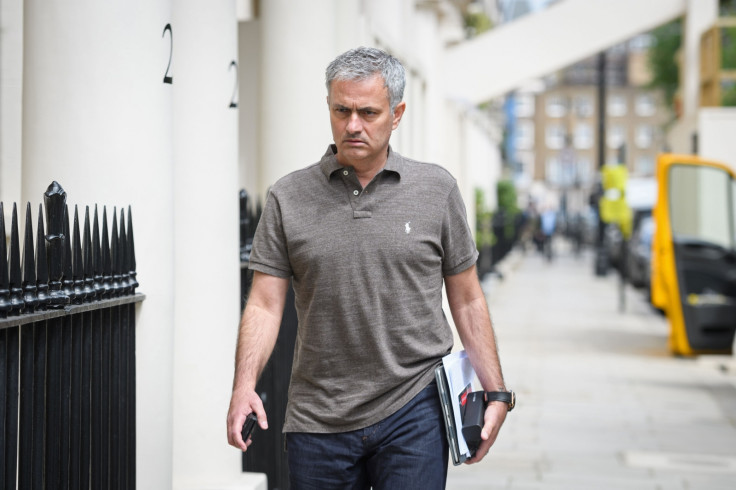 A man who tried to break into José Mourinho's central London home has been jailed for four weeks after pleading guilty to attempted burglary. Roman Gabor, 25, was reportedly caught trying to enter the basement of the £25m property by one of the Manchester United manager's staff on 10 July 2016.
Mourinho, who had just hours before returned from seeing Andy Murray's win against Milos Raonic at Wimbledon, was at the time been watching his home country Portugal beat France in the Euro 2016 final, according to The Sun.
The tabloid reported that a private security guard hired by residents had first spotted Gabor wandering from property to property to see if any were unlocked.
He was then spotted disappearing into Mourinho's basement, prompting the security guard to call the police. Mourinho's maid, who was ironing at the time, also spotted the intruder, screaming: "What are you doing here?"
Photographs taken by a passer-by, published in The Sun, showed Mourinho and wife Matilde Faria looking through a front window as police arrested Gabor, who had tried to flee but was blocked by the security guard.
A passer-by said: "José looked dumbfounded. I don't think it had registered with the guy he was trying to burgle the house of the world's most famous football coach."
They added: "The first open door the guy found was José's basement gate. That's not unusual, because his staff are in and out all the time and the basement front door is often ajar.
"It was perfect timing when the Portuguese maid screamed, 'What are you doing here?' – because at that moment the security man blocked the getaway."
Hours after the break-in, Mourinho posted a picture of himself on social media celebrating Portugal's win in his home.
A hearing at Westminster Magistrates' Court on Tuesday last week (12 July) saw Gabor, of no fixed address, sentenced to four weeks in prison and forced to pay a £115 victim surcharge.
Mourinho was made manager of Manchester United in May after the sacking of Louis Van Gaal.