Apple showcased the much awaited iOS 10 for iPhones, iPads and iPod touch devices at the WWDC 2016 unveiling an array of features making the latest OS the company's biggest update to date. The OS showcased was a developer preview that will be available to all registered Apple developers right away and public beta testers in July. The final public OTA release will only take place in fall.
"iOS 10 is our biggest release ever, with delightful new ways to express yourself in Messages, a native app for Home automation and beautifully redesigned apps for Music, Maps, and News that are more intuitive and more powerful, making everything you love about your iPhone and iPad even better," said Craig Federighi, Apple's senior vice president of Software Engineering. "
IBTimes UK takes a look at the new features on the upgraded OS:
Uninstall native apps
Although this feature has not been formally mentioned in the release, it is one of the biggest developments from a user's perspective. Starting with iOS 10, Apple will be giving iPhone and iPad owners more control over the software that is installed on iOS devices.
iPhone users have often complained about the space crunch on their devices especially those with the lower storage versions. Now users can delete the company's built-in native apps like Maps, Calculator, Music, Videos, etc and download them again later when required.
Lock screen and interactive notifications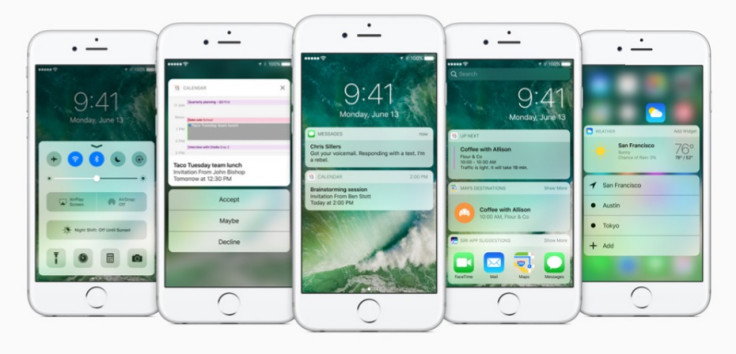 The latest update comes with a redesigned Lock screen that is now capable of waking up the iPhone or iPad the moment one picks it up allowing the user to view all notifications at a glance, right from the Lock screen. Notifications are now interactive, with real-time updates and direct replies from select apps.
Apple also seems to have gone green this time with its UI theme that has been blue in the background for a long time now. Apart from this the Control Center has been redesigned with a dedicated music widget. For iPhone 6s and iPhone 6s Plus users an improved 3D Touch functionality has been introduced to preview app content for select apps without opening them.
Siri
Until now Apple had exclusive hold on Siri, its digital voice assistant. With the unveiling of the iOS 10, Apple has made the platform open to third-party developers. Developers can now build on what Siri offers and let users interact directly with apps using just their voice.
Redesigned Maps
The newly designed map app, Apple claims, is much simpler and more effective to use and for the first time, Maps will also be opened up to developers. One can make a restaurant reservation through the OpenTable and then book a ride using Uber, all without leaving the app. Those having access to Apple Pay can also make payments from within the app.
The app also delivers directions to where you most likely want to go next, based on your routine or appointments on your calendar, a feature starkly similar to Google Maps. Once a route is decided the map app continues to provide suggestions all along for gas stations, restaurants, coffee shops and more.
Smarter keyboard and messaging
iOS 10 introduces a much smarter virtual keyboard using Siri's technology; the QuickType keyboard will use context to predict not just what words one wants to type next, but also their current location when someone else asks the user where they are, or a phone number from the contact app when someone asks for that etc. Developers can now create new interactive ways for users to communicate in thread like stickers, GIFs, edit photos, send payments or schedule a dinner or movie, all from within the Messages app.
Apple Music
Prior to the WWDC there was a lot of talk about the Apple Music getting a revamp which seems to have come true. The app has a new look and the company claims the app is much easier to use this time — answering a complaint that has been around since launch. The redesigned app lets users see song lyrics inside the app, something similar to what Spotify offers.
New Photos App
The photo app has been redesigned and seems a lot like Google Photos like rediscovering forgotten occasions from your photo library by automatically bringing them up in what the company calls Memories. Most importantly the Apple Photos app now has facial recognition (like the Mac app), as well as scene recognition to recognise animals, landmarks and things like mountains, trees and other things found in nature.

News app with automatic news curation and breaking news updates
Apple introduced its News app last year which has got a redesigned look with iOS 10. The app now automatically curates stories into easy to access sections and also serves breaking news updates.
Home app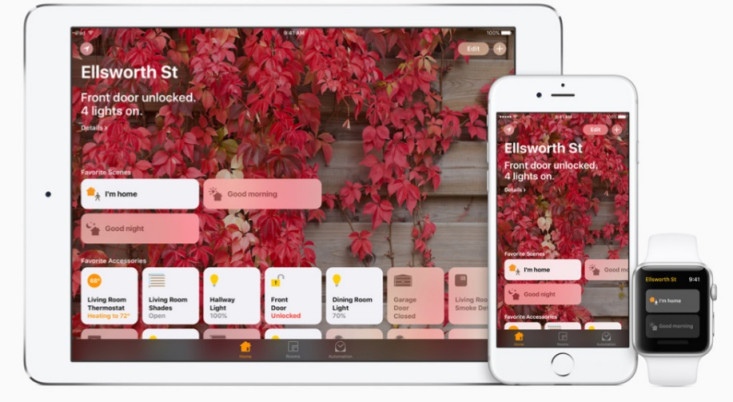 Now all of your HomeKit compatible accessories can be controlled with the Home app delivering a simple and secure way to manage and control your home in one place. Compatible accessories can now be managed individually or even grouped into scenes so they work together with a single command.
Apart from these, here are some additional features listed by Apple:
Siri intelligence brings new QuickType features, including contextual predictions to surface relevant information based on location, calendar availability or contacts; and predictive typing supports multiple languages without switching keyboards.

Phone adds integration for third-party VoIP calls, voicemail transcription and a new caller ID extension for spam alerts.

Safari split-view for iPad, Notes collaboration and Live Photos editing.

Apple Pay can now be used to make easy, secure, and private purchases on participating websites using Safari, in addition to paying in-stores and within apps.

Bedtime Alarm in the Clock app lets you set a regular sleep schedule and receive bedtime reminders.