Veteran iOS hacker pod2g earlier hinted that the iOS 5.1.1 untethered jailbreak tool is just around the corner and was likely to be unveiled at the Hack In The Box (HITB) conference to be held in Amsterdam. The event is scheduled to start on 21 May and continue through to 25 May and should witness a large assembly of high-profile speakers and key sponsors like Microsoft and Research in Motion (RiM).
According to a report on iDownload Blog, work has begun on packaging the exploits for the jailbreak into a tool the average user can utilise; such tools include GreenPois0n and RedSn0w. The latest untethered jailbreak is expected to follow earlier patterns of packaging the exploits into the GreenPois0n and RedSn0w tools, according to information from iOS hacker xvolks, who is close to pod2g. It is very likely the iOS 5.1.1 untethered jailbreak tool will retain the same Absinthe name.
"I have my new bootrom 3gs jailbroken untethered on iOS 5.1.1 thanks to the new Absinthe v2.0-rc1. I'm currently testing with iPhone4..." tweeted xvolks, hinting at the public release of the new untethered jailbreak tool packaged as Absinthe 2.0.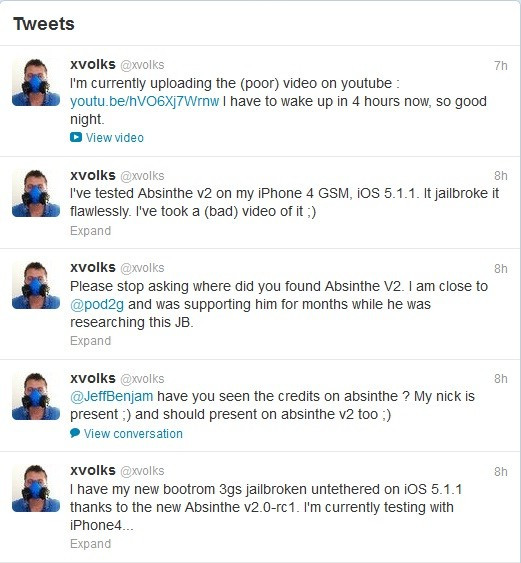 History suggests the Chronic Dev Team will produce another untethered jailbreak tool along the lines of the original Absinthe to make it both user-friendly and seamless in functionality. Just a short while after confirming the Absinthe 2.0 name for the upcoming iOS 5.1.1 jailbreak, xvolks uploaded a video showcasing the Absinthe 2.0 jailbreak in action.
The video is not of particularly good quality since the hackers are understandably busy releasing the jailbreak. However, the video does show an iPhone 4 GSM running iOS 5.1.1, which is then jailbroken using the Absinthe 2.0 tool packaged with pod2g's exploits.
Watch the Video Depicting the Absinthe 2.0 Jailbreak in Action:
MUST READ: iOS 5.1.1 Untethered Jailbreak: Key Features Revealed from Absinthe 2.0 Video