There is better news for the community of jailbreakers as more updates trickle in and suggest the imminent release of the jailbreak for iOS 5.1.1. The new tool is rumoured to have been titled Absinthe 2.0, according to tweets by iOS hacker xvolks, who has also posted a video of the jailbreak in action.
The jailbreak is expected to provide a solution for all iOS devices running the latest version of the software, bypassing tweaks and exploits patched by Apple when they released the software. It is rumoured the release will be made at the Hack In the Box (HITB) conference or immediately after.
In the meantime, check out the list of compatible devices, so far, according to an update on lead hacker pod2g's blog:
iPhone 3Gs
iPhone 4
iPhone 4 CDMA
iPhone 4S
iPad 1
iPad 2 Wifi
iPad 2 GSM
iPad 2 CDMA
iPad 3 Wifi
iPad 3 CDMA
iPod 3G
iPod 4G
The new untethered jailbreak exploits do not, for now, work on Apple TV 3. Here is the list of devices that still require testing before compatibility with the new jailbreak tool can be confirmed:
iPad 2 Wifi, R2
iPad 3 Global
AppleTV 2
Pod2g, however, is quite confident that his untethered jailbreak will work on all iOS 5.1.1 devices except for Apple TV 3.
iOS 5.1.1 Untethered Jailbreak Updates
"Some facts about 5.1.1 jailbreak : http://pod2g-ios.blogspot.fr/ . You can safely upgrade to 5.1.1 now if you want to be ready," pod2g tweeted , hinting on the latest jailbreak quick sheet (update) released by MuscleNerd on pod2g's iOS blog.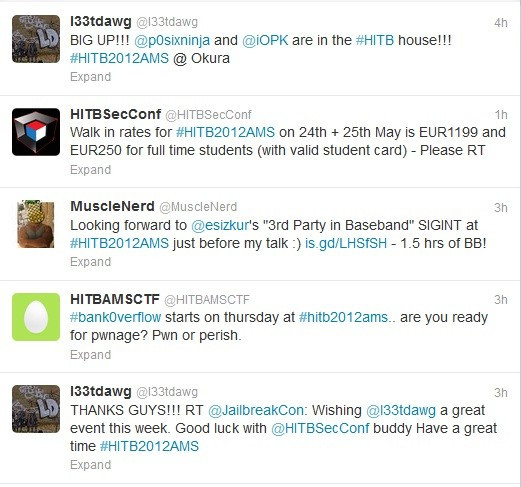 Twitter updates regarding entry prices for the Hack In The Box conference say that walk-in rates for #HITB2012AMS for 24 and 25 May are EUR1199 and EUR250 for full-time students (you will need valid student ID cards).
Meanwhile, MuscleNerd has a released some information about the forthcoming jailbreak...
* All info below is tentative and subject to last minute refinements
* @pod2g's 5.1.1 jailbreak+untether is working out great. All devices are covered except for AppleTV3,1, which currently has no path for jailbreaking.
- the initial 5.1.1 plan used a kernel exploit from @westbaer which unfortunately precluded use in iPod3,1 and iPhone2,1
- @planetbeing stepped up and provided a kernel exploit that covers both of those. Those two JBers are the bomb!
* The 5.1.1 A5 JB is very similar to the A5 5.0.1 JB. @pimskeks has done a tremendous job supporting both 5.0.1 and 5.1.1 in absinthe
* Similar to 5.0.1, there will also be a 5.1.1 CLI "cinject" binary and redsn0w version of the 5.1.1 JB+untether. Absinthe, cinject, and redsn0w will all provide the same JB in different fashions.
- timing is indeterminate. Plans are for this week, but a number of factors can influence that.
* For those wishing to donate, we've set up a new 5.1.1 paypal URL: paypal
* Please don't pirate AppStore apps (seriously, please do not).
Jailbreak users looking for help can refer to the useful tips (from pod2g and MuscleNerd) on upgrading their iOS device to the latest software - iOS 5.1.1, posted here. While we eagerly await the release of the biggest untethered jailbreak in history at the 'Hack In The Box' conference happening in Amsterdam.
MUST READ: iOS 5.1.1 Untethered Jailbreak: Pod2g Confirms Release is Imminent [UPDATE]