Veteran French iOS hacker - Pod2g - has once again tweeted another major update on the status of iOS 5.1 untethered jailbreak. The new status update reveals two new vulnerabilities that are expected to help release the iOS 5.1 untethered jailbreak. Pod2g's tweet on Tuesday announced two big vulnerabilities in iOS 5.1 firmware - the kernel land and the other is root land.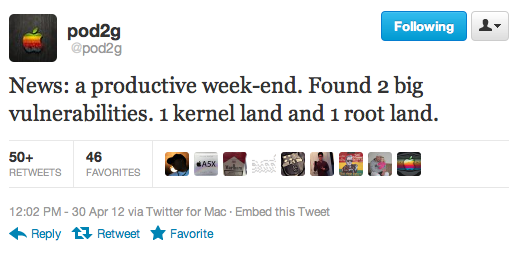 According to Redmond Pie report, what the hacker cites as "a productive weekend" could actually indicate "a crucial step towards the long-term goal that is the jailbreak". The new vulnerabilities jailbreak update comes just five days after the hacker posted a public poll on his personal blog, asking jailbreakers if the hackers should release the iOS 5.1 jailbreak or hold it back until the release of iOS 6.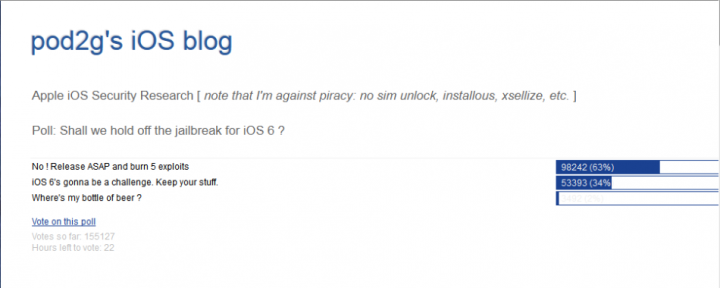 With just about 22 hours left for the poll to end, it appears like the outcome of the untethered jailbreak for iOS 5.1 is pretty much decided, reports iDownloadBlog. At the time of reporting, out of the total 155,127 voters, 98, 242 (63 percent) believe that hackers should continue working on the iOS 5.1 jailbreak and release it as soon as possible. Only 53, 393 (34 percent) of the voters believe that the hackers should hold off until iOS 6 is released. The rest of the respondents seem like they don't care about the outcome at all.
With the next-gen iPhone launch and Worldwide Developer Conference lurking around the corner, the release of iOS 6 is directly threatening the public release for iOS 5.1 untethered jailbreak.
Although, a majority of jailbreak users would agree that releasing the public version of the jailbreak is the best option to go with, Pod2g believes that if the new jailbreak releases before the iOS 6, then the exploits will almost certainly be patched up in the new OS by Apple. If this turns out true, the iOS hackers working on the iOS 5.1 jailbreak will have to abandon all their hard earned exploits and start reworking the jailbreak from scratch.
Besides, there is also the risk that Apple might find and patch the exploits in iOS 6 by default, regardless of whether a 5.1 jailbreak is released or not.
According to iDownloadBlog, Pod2g admits, "this is like playing poker." Although, there is still no official word on ETA or release date, it sounds like the hackers are making rapid progress with every passing day and the advent of iOS 5.1 untethered jailbreak looks inevitable.
MUST READ: iOS 5.1 Jailbreak: Dev Team's Redsn0w 0.9.10b8b Update Fixes Minor Bugs