The "Ultrasn0w" unlock tool has been doing the rounds on the Internet ever since the release of "Redsn0w 0.9.9b9", which recommended the use of the latest iteration of the tool. The tool is available at the official repository in Cydia. Although the early release of the tool does not support any new baseband versions, it is still fully functional with the following basebands:
01.59.00
04.26.08
05.11.07
05.13.01
05.12.01
06.15.00
The basic use of such a tool is to enable novice users to unlock their iPhone for use over multiple carrier networks. Involving a relatively simple installation procedure, the process is extremely user-friendly, unlike specialised jailbreak tools like "Redsn0w", "Sn0wbreeze" and "GreenPois0n Absinthe", which demand some level of expertise working with jailbreaks.
Before you can exploit the potential of the "Ultrasn0w unlock", you need to jailbreak your iPhone on iOS 5.0.1 which can be achieved at a tethered level using the newly released "Redsn0w 0.9.9b9", according to RedmondPie. In other words, tethered jailbreak requires you to connect your iPhone to your PC or Mac every time it is powered down or requires a reboot in order to boot the device back into a jailbroken state.
The current firmware and baseband version of your iOS device can be verified by navigating to "Settings >> General >> About" and looking for the necessary information. Once you have jailbroken your device on iOS 5.0.1 and also confirmed that you have the supported baseband, you are all set to unlock your device using "Ultrasn0w 1.2.5."
Step 1: Jailbreak your iOS device using the latest version of "Redsn0w" or "Sn0wbreeze". Complete step-by step instructions for jailbreaking on iOS 5.0.1 can follow our instructions posted here using "Redsn0w", or here using "Sn0wbreeze".
Step 2: Once the jailbreak procedure completes, launch the newly installed "Cydia" app that is loaded on your iPhone's Springboard.
Step 3: The required repository is available as default with Cydia but for education purposes. to add a repo you will need to click on the "Managae" tab, followed by "Sources" and then finally hit "Add". The completion of these steps brings an alert or pop up window with the title "Enter Cydia/APT URL".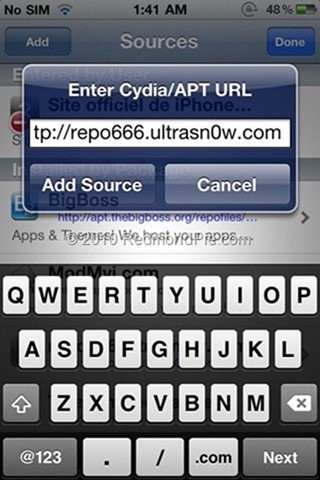 Step 4: Add the following URL into the pop up alert -http://repo666.ultrasn0w.com - then select "Add Source".
Step 5: After Cydia is finished refreshing and adding packages, click on the above mentioned repo and install the "Ultrasn0w" utility. Wait for the install process to complete and you are done. Congratulations, you have now successfully unlocked your iPhone.
MUST READ: iOS 5.1 Untethered Jailbreak: New Status Update for iPhone 4S, iPad 2 and New iPad from Pod2g and Chpwn
MUST READ: iOS 5.1 Untethered Jailbreak: Redsn0w, WebProNews and Softpedia Confirm "EasyRa1n RC5" Jailbreak for iPhone 4/4S as Total Fake

MUST READ: iOS 5.0.1 Untethered Jailbreak: How to Unlock iPhone, iPad, iPod Touch Using Sn0wbreeze 2.9.3 [GUIDE]
MUST READ: iOS 5.0.1 Untethered Jailbreak: How to Unlock iPhone/iPad/iPod Touch Using Redsn0w 0.9.10b1/Corona [VIDEO & TUTORIAL]