The Chinese jailbreak developer team, Pangu, has finally rolled out the most-eagerly awaited update for Pangu App (v1.0.1) with built-in Cydia installer for iOS 8.x jailbreak on iPhone, iPad or iPod Touch.
Consequently, iOS 8 jailbreakers no longer have to follow an extensive and complicated method of jailbreaking their device first and then install Cydia through a third-party source, which actually resulted in numerous bugs and compatibility issues with Cydia update.
Downloads Required
Note #1: Mac users should follow our step-by-step guide for iOS 8.x jailbreak using virtual Windows machine, which is posted here.
Note #2: It is advisable to restore your iDevice to factory defaults before proceeding as it eliminates issues with custom settings and changes introduced into the iOS software over a period of time.
Steps to Jailbreak iOS 8.x Using Pangu v1.0.1 with Cydia Installer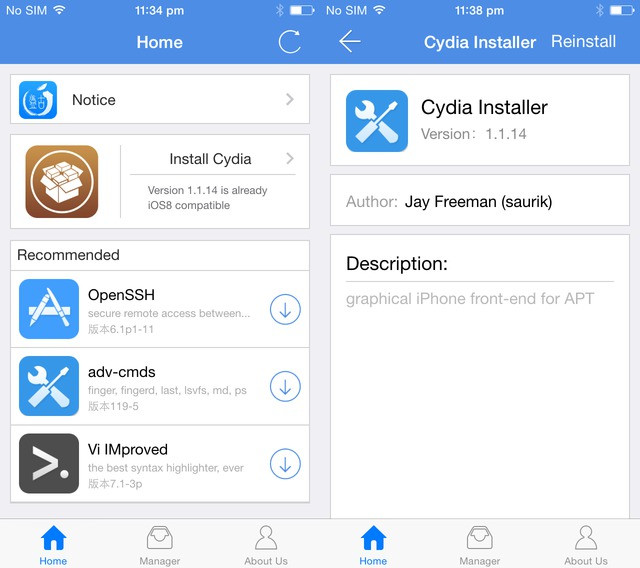 Step 1: Download latest version of Pangu (v1.0.1) from the above link and save it to the desktop.
Step 2: Ensure the latest version of iTunes (v12.0.1) is installed on your iDevice and it is recognised in iTunes.
Step 3: Right-click on Pangu app and choose Run as Administrator, and then click Yes to confirm.
Step 4: Allow Pangu to identify your device and then uncheck the box to prevent bloatware from being installed. Finally, click the blue jailbreak button.
Step 5: Wait for Pangu to complete the jailbreak process or until the blue status bar gets filled up to 100%.
Step 6: Launch Pangu from the device's Home screen, and now you can install Cydia via Cydia Installer link.
Step 7: Launch Cydia and let it run the setup or configure itself. Finally, install the necessary updates when prompted.
That's it. You have now installed the latest Pangu update for iOS 8.x jailbreak along with Cydia functionality in a very simple way.
It is now possible to install latest Cydia Substrate updates as well as jailbreak tweaks and apps based on your requirements.
For further assistance, check out the video tutorial below:
[Source: iDownloadBlog]