The new, smaller iPad Pro is a brilliant tablet, but Apple also wants it to be a brilliant laptop. The keyboard dock and Pencil stylus turn the iPad from a device for consuming into a device for creating. But at over £200 for the pair, can they really transform the iPad enough, when they take the cost of the Pro to almost £1,000?
I'm writing this entire feature on the Pro and its keyboard dock to find out.
---
Apple Smart Keyboard
First impressions of the iPad Pro set on its keyboard dock are very good. It is held at the perfect angle (although not adjustable, like the Microsoft Surface) and the dock folds itself around the iPad to form a protective cover for the screen. Held in place by magnets and connecting via the Pro's side port, it's an attractive and neat solution which, aesthetically at least, turns the iPad from tablet to laptop.
The keys are more tightly packed than on the larger 12.9in iPad Pro, for obvious reasons, but iOS's autocorrect software does a stellar job of correct any wayward fingers. Learn to trust it more than you would on a regular laptop or PC, and you can make surprisingly quick progress. Typing without a mouse sat faithfully by your side is strange at first, but it doesn't take long to get used to reaching out and prodding the screen with your index finger instead.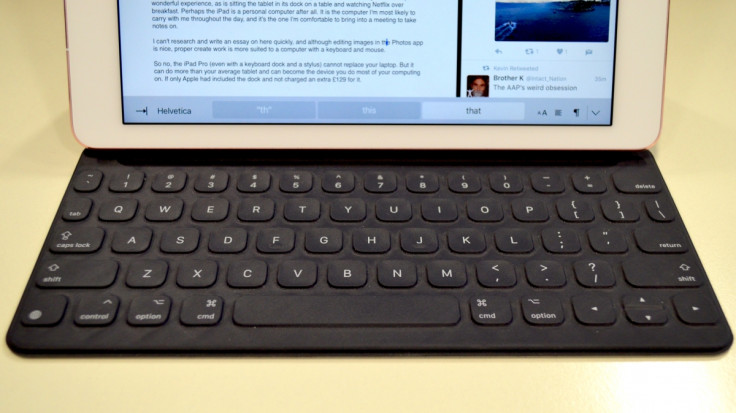 There are also a number of keyboard shortcuts to limit your need to touch the screen as much as possible. Command-C and Command-V do copy and paste duties as you'd expect, and Command-Space opens up the iOS search box, just as it does on the Mac. These don't work everywhere though. I went to write this article in the Google Docs iOS app, but keyboard shortcuts weren't working, so I've made a rare trip to Apple's own Pages instead. The directional keys are also supported sporadically for example, they can scroll up and down a web page in Chrome, but can't help you in the drop-drop search results which appear when you type a website address.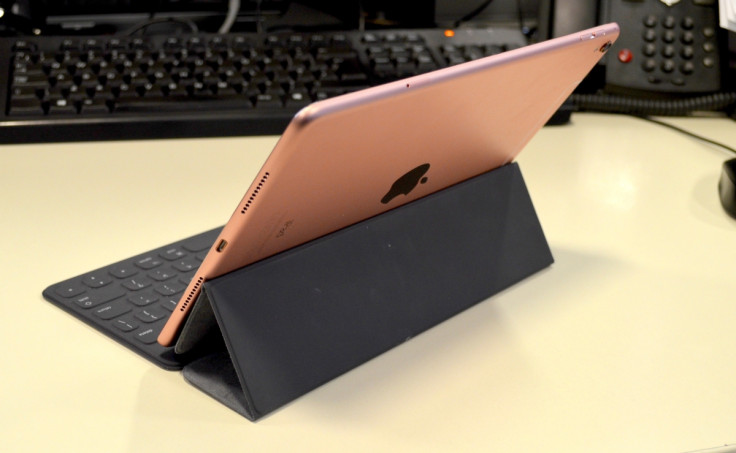 The keys themselves produce just enough physical feedback to be better than typing on the screen itself – where, ironically, the keys are much larger. The clack-clack-clack sound of the keys being pressed is a harsher sound than that of a regular Mac keyboard, and would probably annoy me if I had to use it all day, every day. The lack of movement would probably get uncomfortable after a few hours, too.
The smart, compact design and usefulness just about outweigh these negatives, but I imagine the price will be a sticking point for many. At £129 it is much more expensive than most people are used to paying for either an iPad case or a computer keyboard. I wouldn't blame buyers of the iPad Pro, which starts at £499 for the 9.7in version pictured here and £679 for the 12.9in model, to be disappointed that the keyboard and Pencil aren't included as standard. They feature in almost every shot of Apple's iPad Pro promotional video, and are arguably the most appealing features of the product, yet bump up the price considerably.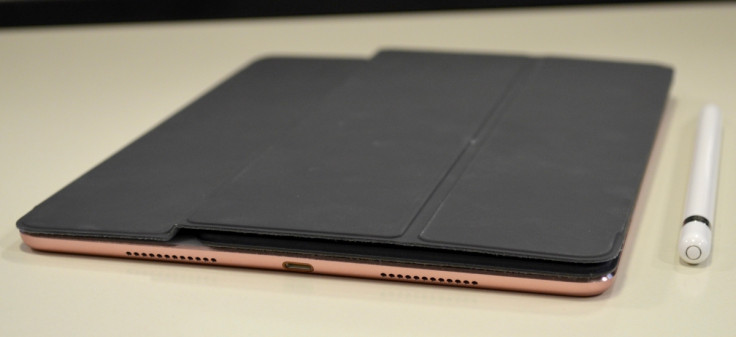 Apple Pencil
And so to the iPad stylus, or Pencil as Apple calls it. At £79 it is also more expensive than you might expect, but being an Apple product it has an air of quality and good design that is hard to argue with. It's a good size and perfectly weighted, helping it to feel natural in your hand.
The replaceable nib is shaped like a pencil (surprise, surprise) and the magnetic cap pops off to reveal a Lightning plug to charge it from the iPad's own port, a clever if unsightly feature. That cap doesn't double up as an eraser when you turn the Pencil around, which disappointed more friends and colleagues than I expected it to, but there are plenty of other sensors on board to let the Pencil hold onto its smart credentials.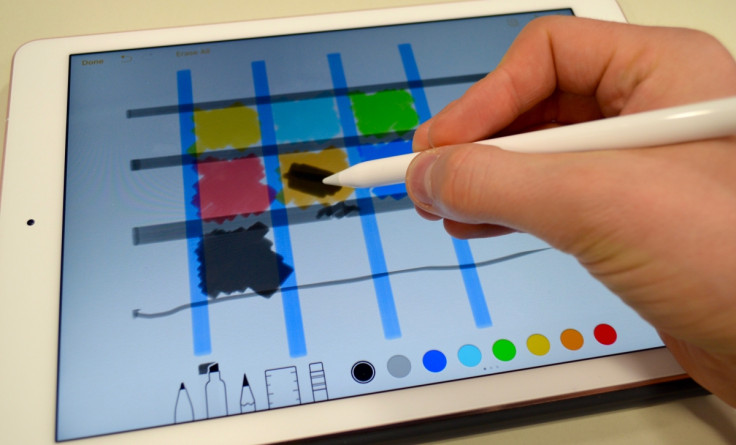 The display and Pencil work together to understand how much pressure you apply and at what angle. Apple has configured the screen to ignore inputs from your hand and wrist when using the Pencil, but this doesn't work every time and it occasionally confused my knuckles for the nib of the stylus.
I'm quite possibly the world's worst artist, but even I can appreciate the usefulness of the Pencil. Developers have already come up with some excellent uses for it and the Adobe apps are particularly impressive. Even after just a few seconds' use you realise using the Pencil is a natural and innovative experience – and with a simple name and design, so it should be.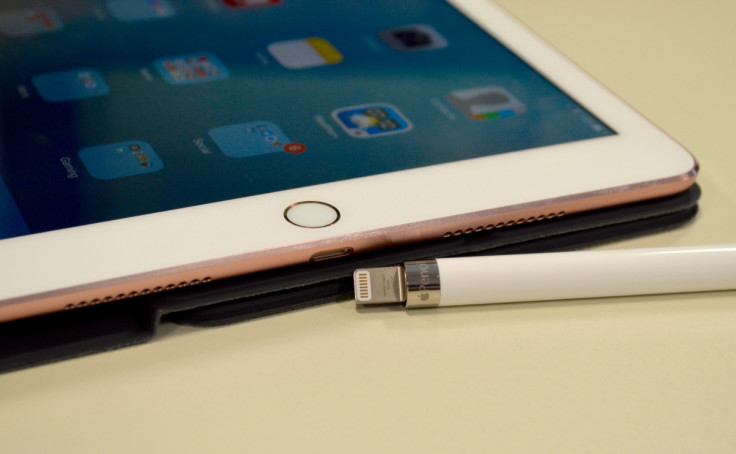 The Pencil is one of those gadgets which is lovely to use, but should only be bought if you have as genuine use case for it. Buying the Pencil on a whim will result it in sitting in a drawer for the rest of its life so, perhaps unlike the keyboard, it is right that Apple sells it separately.
Is the iPad Pro a laptop replacement?
Apple says their iPad Pro is a step towards its vision for the future of personal computing. That might well be true, but for now this still feels very much like a tablet with accessories and not a full-time laptop replacement. I've written this article with it and I've been checking Twitter, looking things up online and replying to email, all without reaching for my laptop.
But it's a slow process. Multitasking is nice but not a patch on using Mac OS or Windows, and I feel I'd be more productive with a track pad instead of reaching out to touch the screen.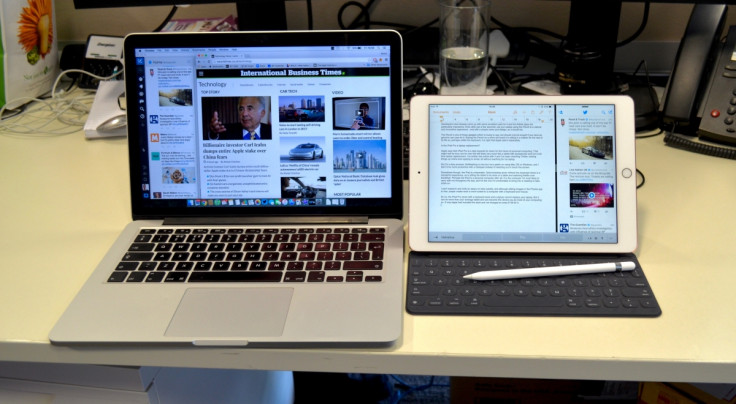 Sometimes though, the iPad is unbearable. Sofa browsing (even without the keyboard dock) is a wonderful experience, as is sitting the tablet in its dock on a table and watching Netflix over breakfast. Perhaps the iPad is a personal computer after all. It is the computer I'm most likely to carry with me throughout the day, and it's the one I'm comfortable to bring into a meeting to take notes on.
I can't research and write an essay on here quickly, and although editing images in the Photos app is nice, proper create work is more suited to a computer with a keyboard and mouse.
So no, the iPad Pro (even with a keyboard dock and a stylus) cannot replace your laptop. But it can do more than your average tablet and can become the device you do most of your computing on. If only Apple had included the dock and not charged an extra £129 for it.