The iPad Pro has gone on sale today (11 November), with prices ranging from £679 to £899. Apple's latest tablet has a large 12.9in screen and is sold alongside an optional keyboard and stylus to turn it into a laptop replacement, but should iPad Air users be looking to upgrade?
iPad Pro vs iPad Air 2: Screen
Obviously, the biggest difference is the display. At 12.9in, the iPad Pro is much larger than the 9.7in iPad Air 2, which in turn is bigger than the 7.9in iPad mini 4. All three have what Apple calls a 'Retina' screen, where there are so many pixels that seeing individual ones − and therefore jagged lines that should be smooth − is impossible.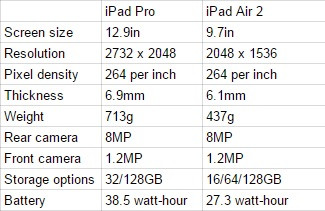 The iPad Pro has a resolution of 2732 x 2048 and a pixel density of 264 per inch. By comparison, the iPad Air 2's resolution is 2048 x 1536 and its pixel density is also 264 per inch. By having the same width as the Air 2's length, the Pro can display two regular iPad applications side-by-side at exactly the same size they appear on the Air.
iPad Pro vs iPad Air 2: Colour and storage options
There are three specifications of iPad Pro. The cheapest, costing £679, has 32GB of storage and Wi-Fi. For £799 the storage is increased to 128GB, and for £899 this 128GB model also gets a 4G SIM card slot to work alongside the Wi-Fi.
For comparison, the iPad Air 2 comes with storage options of 16, 64 and 128GB, plus the option to have any of the three with 4G for an extra £100. The base prices are £399, £479 and £559 respectively.
All three models of iPad, mini 4, Air 2 and Pro, are available in silver, gold and Space Grey. The former two have a white front, whereas the latter is black.
iPad Pro vs iPad Air 2: Software, performance and features
All three iPads include Apple's Touch ID fingerprint scanner on the Home button. This can be used to unlock the tablet, instead of using a PIN or password, and for making payments online and in shops with Apple Pay. All three are charged through a Lightning port, they all include a headphone jack, and the iPad Pro has an additional Smart Connector for use with the smart keyboard dock, sold separately for £139.
Inside, the iPad Pro uses Apple's new A9X 64 bit processor. The company claims it can "easily take on tasks that were once reserved for workstations and PCs". Apple says the Pro's processor is 1.8 times faster than the iPad Air 2's A8X chip, and has double the graphical performance. The iPad Pro can be used to edit multiple streams of 4K Ultra HD video at once.
All new iPads run iOS 9, but with the Pro the software has been tweaked to take advantage of the extra space. Apps can run side-by-side in full, and when two are on screen a third video video can be added, floating wherever you place it. This helps to make the Pro feel like a laptop replacement, but such multitasking is still fairly limited for now.
All three iPads are claimed to offer 10 hours of battery life, although this will depend greatly on how they are being used. Editing 4K video will drain the battery much more quickly than browsing the web or listening to music.
The iPad Pro, Air 2 and mini 4 all have the same 8-megapixel rear and 1.2MP front cameras. They can record Full HD video with the rear camera, as well as take 43MP panoramic images, bursts of photos, slow motion video at 120 frames per second and time-lapse video.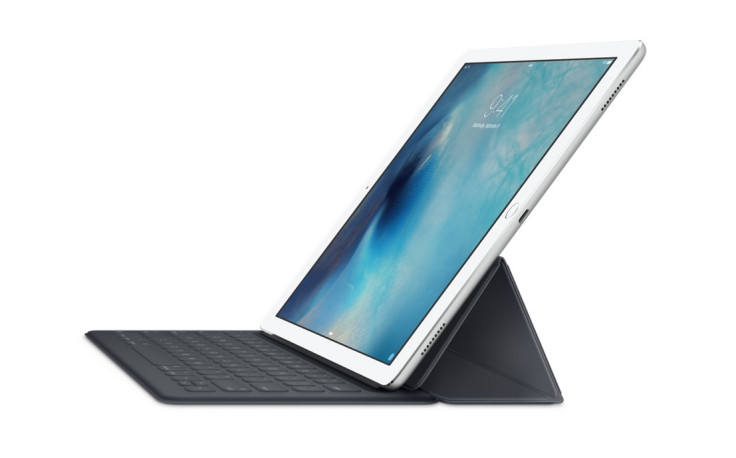 iPad Pro vs iPad Air 2: Accessories
Both the iPad Air 2 and mini 4 are sold with optional front and rear cases, and so too is the iPad Pro. A rear case for the Pro costs £65 and is available in white or charcoal grey; the magnetic Smart Cover costs £49 and is available in the same two colours. The Air's Smart Cover is £49 and comes in seven colours.
Unique to the iPad Pro is the new Apple Pencil, which costs £79 and only works with the new tablet. It charges via the tablet's Lightning port and lasts for up to 12 hours. Also unique to the Pro is a folding case with stand and integrated keyboard. This costs £139, is only available in charcoal grey, and can only be bought with a US English keyboard layout.
iPad Pro vs iPad Air 2: Should you upgrade?
The Pro's name, size and lack of colourful cases says one thing − this is a device to get work done on. Where the iPad Air 2 can be used to write emails and edit photos, Apple wants real, professional work to be done on the Pro. As such, it is aimed at a different audience − an audience who want to create more than consume, and who isn't interested in buying a screen cover to match their outfit.
Upgrading from Air to Pro would give you a massive portable screen, but one that expects you to get work done instead of watch Netflix all day. Sure, die-hard Apple fans with money to burn will buy the Pro regardless of who it's aimed at and what they already have, but on this occasion, for the first time in recent years, owners of the 'lesser' models shouldn't feel left out by sticking with what they already have.