A US man claims that following an accident while riding in a rickshaw with his family, an iPhone 6 which was in his pocket bent, caught fire and ended up causing first degree burns.
The incident happened when entrepreneur Philip Lecther was visiting the University of Arizona in Tuscon with his family. Along with his wife and his son, he was travelling in a rickshaw when the "driver/biker caught a trolley track in the road and lost balance."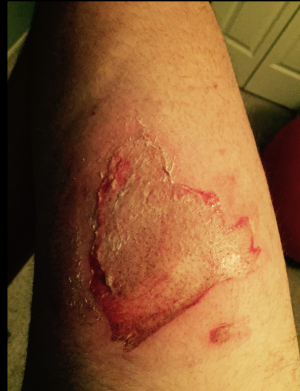 While the rickshaw didn't flip over completely, it did tip over and with Lecther left "half on, half off" the vehicle. It was only after checking his wife and son were OK that Lecther noticed a burning smell, and realised that "thick smoke" was coming from the phone in his pocket.
Writing on his blog, Phillip Lecther said that the iPhone 6 "burned through my jeans pocket, through my boxers and significantly burned my leg".
Lecther burned his hip when removing the phone from his pocket, though luckily a leather case covering the phone prevented his fingers from being burned. "The doctor's report described a 11.5 cm x 10.5 cm burn area on my right leg and classified the burn as 2nd degree with first degree burns surrounding the area."
Describing the incident, Lecther said:
"The smell was disturbing. I could feel my leg burning. I pulled the Apple iPhone 6 out of my pocket and threw it to the side. Someone from a crowd of spectators threw a cup of water on my leg to put the fire out on my jeans."
Lecther posted several photos of the iPhone 6 and the burns on his leg, as well as a video showing the bent and smoking iPhone 6.
He added that to take care of the burn will require "cleanliness, antibiotics and pain management for treatment".
Lithium-ion batteries such as the one powering the iPhone 6 have caused a number of issues similar to this for smartphone owners in the past.
Significant pressure such as that caused in the rickshaw crash could have caused the battery to catch fire, though Lecther admits that a lot of the bending to the iPhone 6 was caused after the incident: "In the process of removing the leather case more bend of the back of the phone was created."