iPhone 6: Queues Begin a Week Before Announcement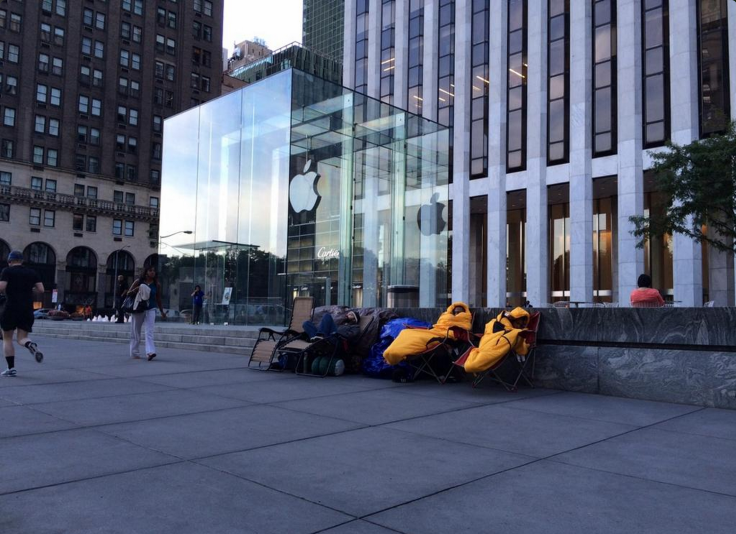 Days before the iPhone 6 is even announced, and weeks before it goes on sale, Apple fans are already queuing outside the company's flagship store in New York.
The eagerly-awaited Apple event, at which the new iPhone is expected to debut, will be held on 9 September, but a handful of people have been camping outside the company's Fifth Avenue store as far back as 31 August - almost three weeks before the iPhone 6 is set to go on sale.
"We wanted to beat the record, which had been 18 days," super-fan Brian Ceballo told CNBC.
Ceballo and Joseph Cruz, who expect to be in line for 20 days ahead of the handset's release in two weeks' time, represent electronic reseller BuyBackWorld.
The cousins reportedly sold their places at the front of the queue for $2,500 (£1,500). Having done this now for five years, they estimate they have made over $7,000 waiting in iPhone queues, not to mention gaining thousands of social media followers.
Others, like Moon and Jason Ray, are using the event's press exposure to promote apps – theirs is called VideoMedicine, and it allows patients to Skype with doctors.
Queueing for Apple products is business, according Robert Samuel, owner of the line-waiting service SOLD, who has already taken seven orders for the new iPhone. "That's the thing with iPhone fans," he said, "even though though they just got the iPhone 5S last year, they still want the latest and greatest."
© Copyright IBTimes 2023. All rights reserved.