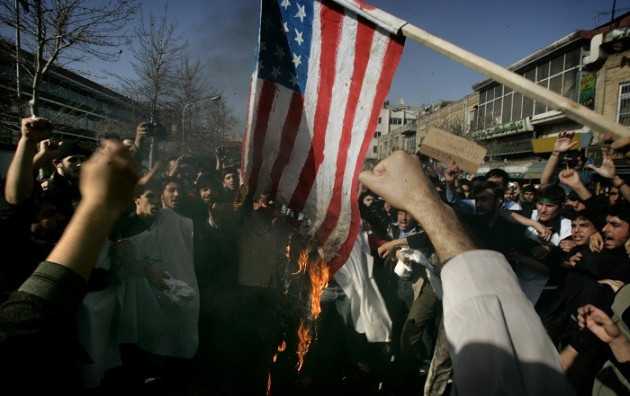 Iran has announced its first anti-American awards, inviting the public to submit work demonising the United States.
According to the event's website, participants should send their interpretations of the theme in the form of photos, caricatures, blogs, websites, documentaries, articles or graphics.
Backed by conservative media groups, a prize of 100 million rials (£2,500) is on offer for the image, cartoon, article or documentary that best captures what the award organisers call the imperialist hypocrisy of the "Great Satan". The amount represents around five months' earnings for the average Iranian.
Sponsors include Tasnim news agency, Hezbollah Cyber, Nasr TV, Besharat and Seraj Cyberspace.
Contestants are invited to base their work on one of several proposed themes, including "the US and its broken promises", "the US and oppression" and "the US and global Zionism".
The competition is set to coincide with other events marking the anniversary of the 1979 takeover of the US embassy on 4 November. It also demonstrates the fury among Iranian hardliners at signs of improved relations with the West under their country's centrist President Rouhani.
Disgruntled conservatives feel they have been cut out of the loop by Rouhani's team as talks between Tehran and the West to broker a deal on Iran's nuclear programme re-opened in Geneva two weeks ago.
The more cordial and conciliatory talks have prompted suggestions that the Tehran government might try to quash the "Death to America" chant that has been a mantra across Iran for decades.
The winner of the Down with America awards will be announced in a special ceremony in December.
Cleric Ali Saeidi, the supreme leader's representative in the Revolutionary Guards, told Fars News Agency: "Our problem with America is not only the nuclear issue but a series of problems exist which the Americans will not step back from and nor will we, meaning there will be a stalemate."
The Revolutionary Guards have scheduled mass rallies to be held across Iran to shout "Death to America" on the anniversary of the US Embassy takeover of 4 November 1979, according to Brigadier General Seyyed Masoud Jazayeri, deputy chief of the Joint Armed Forces Headquarters.
"The crimes of leaders of America and international Zionism in their confrontation with the Iranian nation will never be erased from the public's memory," he said.