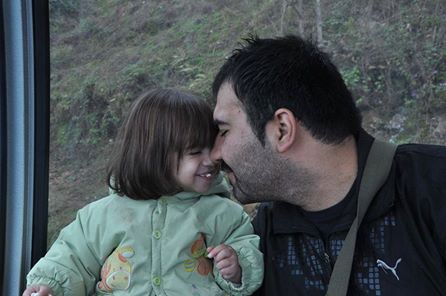 An Iranian photographer and blogger has seen his death sentence upheld by the country's Supreme Court for insulting the Prophet Mohammed in several Facebook posts, according to local reports.
The photographer, 30-year-old Soheil Arabi, was arrested in November 2013 by the Revolutionary Guards (IRGC) in his home in Tehran, over allegations of "insulting the Prophet of Islam" (sabbo al-nabi).
Arabi was jailed for two months in solitary confinement in the feared section 2A of Evin Prison, which is under the rule of the IRGC. During interrogation he made a "confession", and was then moved on to Section 350 of the prison, under the judiciary's control. He was sentenced to death by a five-judge panel of branch 76 of Tehran Penal Court on 30 August.
But his lawyers had hoped that the Supreme Court would dismiss the charges based on Article 263 of the Islamic Penal Code. According to International Campaign for Human Rights in Iran, the article "explicitly states that if a suspect claims in court that he said the insulting words in anger, in quoting someone, or by mistake, his death sentence will be converted to 74 lashes".
However, the top court not only confirmed the death sentence, but also added a new charge - "corruption on earth" - which cannot receive a pardon under Iranian law.
"Therefore, at this stage there is only room for hoping that the Judge in Branch 41 of the Supreme Court announces that this charge was added by mistake and to eliminate it, sending the case to a lateral court for review. Otherwise, Arabi will be executed," a source told the International Campaign.
Arabi's lawyers are rushing to obtain a stay of execution and a retrial for the blogger.
Internet Crackdown
Amnesty International has appealed to Iranian authorities not to execute Arabi and to establish an official moratorium on executions. A petition has been launched to stop his execution.
Earlier this year, another man was sentenced to death for insulting the Prophet. Rouhollah Tavana was sentenced to death on 3 August 2013 by the Criminal Court in Khorasan over a video in which he allegedly insulted Prophet Mohammed.
In May, eight people, including an Iranian-born British woman, were imprisoned over blasphemy charges on Facebook. The prison sentence spanned from seven to 20 years in jail.
They were found guilty of blasphemy, propaganda against the ruling system and insulting Supreme Leader Ayatollah Ali Khamenei.
In the same month, six young Iranians who danced in a YouTube version of Pharrell Williams' hit song Happy were arrested for making an "obscene clip that offended the public morals". They were later released on bail and received a suspended sentence of six months in prison and 91 lashes in September.
The clip was viewed by more than 100,000 people on YouTube.
Struggle for power
The "Happy Iranians" incident was widely perceived as a sign of the growing row between reformist president Hassan Rouhani, which supports internet freedom, and conservative hardliners who want to tighten up censorship in the country. Rouhani, who promised to allow people greater freedom on social networks such as Facebook and Twitter (banned in the Islamic Republic) came out in support of the young performers.
At a conference in Tehran, he reportedly said that the "ear of the one-sided pulpit is over".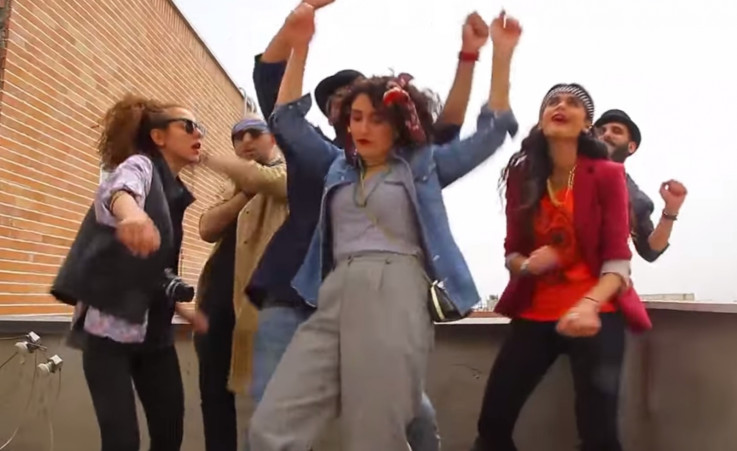 Six Iranian youths dancing in a YouTube version of Pharrell Williams' song Happy.
YouTube
Another episode involved Iran's top website for gadget news, Narenji (Orange). With a good mix of reviews of the latest Android Samsung smartphone of iPhones and the latest internet memes, Narenji enjoyed a growing audience of young tech enthusiasts.
But its team of tech bloggers, working in the city of Kerman, was rounded up by the Revolutionary Guard and put into jail. The website was taken offline. All despite Rouhani's promises to boost the tech economy with a $1bln innovation fund for developing the "knowledge economy".
Apparently, the prosecutor accused the 16 Iranians of having taken parts to projects run by the BBC and receiving funds from London.
Ali Tavakoli, head of Kerman's justice department, accused the group of running several projects and plans for "anti-revolutionary Iranians based abroad", according to the Guardian.