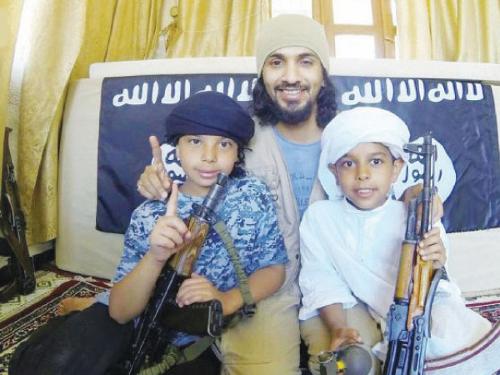 A Saudi man who took his two sons to Iraq to join Isis has died in a suicide mission, Al-Hayat Daily reported.
Naser al-Shayeq – from Khafji, Eastern Provincem Saudia Arabia – took Ahmad, 10, and Abdullah, 11, to Iraq when he joined the militant group, which now calls itself Islamic State, last month.
One of his friends, Abu Ghadah Al-Zaghbi, tweeted al-Shayeq was chosen for the mission, and added: "The story of Ahmad and Abdullah, whose father was chosen for a suicide mission, is a heart-breaking one. We ask God for their support."
Al-Shayeq's ex- wife believed her children were on holiday with their father in one of the Gulf countries. However, when she saw an Instagram picture of them in Turkey, she called her sons to ask about their location, and Al-Shayeq told her to "count your children as birds in heaven".
Children's fates unknown
Islamic State later posted a picture of al-Shayeq with his sons, each holding an AK-47 rifle. One of the boys was also holding a grenade.
The Saudi Gazette reported that the kingdom is trying to repatriate the two children, who were smuggled into Iraq through Turkey. The Saudi government has also set up a hotline with Turkey to try to bring the two boys back.
The two boys have lived with al-Shayeq since he divorced their mother seven years ago.
Islamic State started their offensive against the Iraqi government last June, prompting more than 800,000 people to flee the occupied areas.
The insurgents, who already control large areas of Iraq and Syria, are attracting dozens of young fighters, many of whom are believed to be Saudis, from abroad.