A suicide bomber has blown himself up at a funeral for an anti-al-Qaida fighter in Buhriz, Iraq, killing at least 18 people.
The attack was the deadliest in a spate that left at least 46 people dead across the country, local authorities said.
Police in Buhriz, about 60km (35 miles) north of Baghdad, said the attacker entered a funeral tent and detonated an explosive device injuring at least 26.
Mourners were marking the death of a Sunni militiaman who fought against al-Qaida with the local Sahwa movement, an armed group also known as the Awakening Council which was formed by US forces in 2007.
Sahwa members are considered as traitors by Sunni hardliners who have been waging an mounting terrorist war in recent months.
The funeral was attacked on the same day that seven car bombs went off around Baghdad, killing at least 28.
A vehicle blew up at an outdoor market in the northern Shula neighbourhood killing five and three market-goers died in a separate blast in the eastern Maamil area.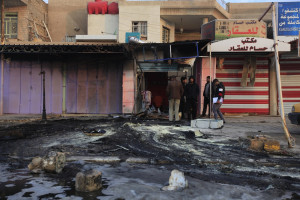 Two car bombs in the central Karrada district killed another six and explosions in the Shaab and Husseiniya neighbourhoods claimed another 14 lives.
There was no immediate claim of responsibility for the attacks. Ethnic violence is rife in Iraq and has reached its worst levels in recent years.
A cluster of Sunni militant groups including al-Qaida's local branch, the Islamic State of Iraq and Levante (known as Isis or Isil) have increased attacks against Maliki's Shiite-led government, which they said discriminates against them.
Earlier this month Isis militants overrun the city of Fallujah and parts of Ramadi, in the western Anbar province, sparking a tense standoff with government troops.
Iraqi prime minister Nouri al-Maliki has deployed heavy security forces in the area but has ruled out an assault on the cities, urging local tribes to oust the Islamist militants.
According to the UN, almost 8,000 civilians and 1,050 members of the security forces were killed in violence in 2013.