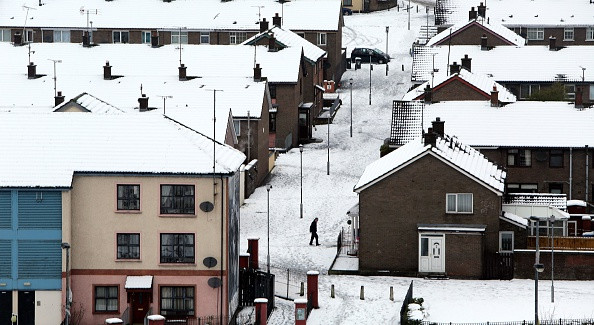 As an ongoing Northern Ireland Water pensions' dispute with staff is left unresolved, thousands of residents are faced with severe water shortage with some resorting to boiling snow.
Complaining of recent proposed changes to a pension scheme, staff at government-owned Northern Ireland Water have refused to conduct out-of-hours repairs leaving up to 6,500 customers without supply at one point on Monday (19 January).
Faced with water shortages, residents have resorted to boiling river water and snow from their rooftops and cars.
Eilish Doyle, a mother of three in Sperrin Mountains, was without water for six days and said she felt as though she was in a "third world country".
"I had to go out and collect snow from the roof of the cars and boil it for tea and cooking, because that's the cleanest place you can take snow," said Doyle.
"My husband and son had to go and carry water from the river which runs by the side of our house so we could use it to flush our toilets."
Another resident, Patricia Gray, 45, said, reported Sky News: "It was awful ... not being able to flush the toilet and wash your hands with warm water which were worst. It has been very, very difficult."
As temperatures plunged to near -6C, Gray was unable to heat her house, where the heating system works on using water at a constant pressure.
Meanwhile, Red Cross volunteers are working hard to assist residents in the worst hit areas, including Fermanagh, Tyrone, and Londonderry.
A statement on the Northern Ireland Water website on Monday (19 January) read: "The number of properties currently off supply is approximately is 9,000. NI Water has received approximately 600 no water calls since midnight.
"NI Water is working to minimise disruption to customers' supplies and where appropriate will be providing alternative supplies. The location of the alternative water supplies (water from plastic tanks) will be available via the postcode search on niwater.com or by contacting us on 08457 440088. Customers will need to bring their own containers to collect water from the tanks. Customers should boil the water before use."
As NI Water and union representatives continue to hold talks, Ryan McKinney from the union, Nipsa, said: "When I speak to our members, and they are also affected by the loss of water, they say they aren't prepared to reinstate goodwill, they haven't experienced any good will for a long time from the company."