Ethiopian authorities have strongly condemned the mass execution of a group of about 30 Christians in Libya, as shown in a video released by Islamic State (Isis).
Investigators are examining the authenticity of the video of the killings but the published footage is mostly consistent with earlier IS releases.
The Sunni Islamist group made public two videos showing the execution of supposedly Ethiopian Christians. One recording shows a group of "Christian crusaders" having their throats cut; in another video the captives are shot in the head.
Ethiopian government minister Redwan Hussein said: "We have seen the video but our embassy in Cairo has not been able to confirm that the victims are Ethiopian nationals."
He condemned the "atrocious" actions of the Islamists, regardless of which country the hostages came from. Some reports suggest the victims included Eritreans.
Ethiopia does not have an embassy in Libya but assured that it would work with other countries in assisting Ethiopian immigrants if they want to leave the country.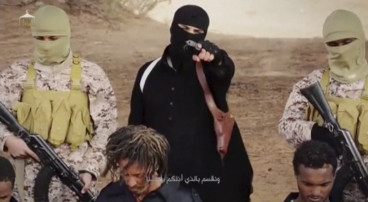 The text on the IS video said the victims were "followers of the cross from the enemy Ethiopian Church".
A masked man, standing behind the victims, brandishing a pistol warns of more bloodshed if Christians do not convert to Islam.
"Muslim bloodshed under the hands of your religions is not cheap. To the nation of the cross: we are now back again," he says in the video.
Libyan officials have not commented on the slaughter. Foreigners in Libya are increasingly being targeted by IS apparently to demonstrate its reach beyond Iraq and Syria.