Isis leader al-Baghdadi Mocked for Wearing 'Rolex' Whilst Preaching Jihad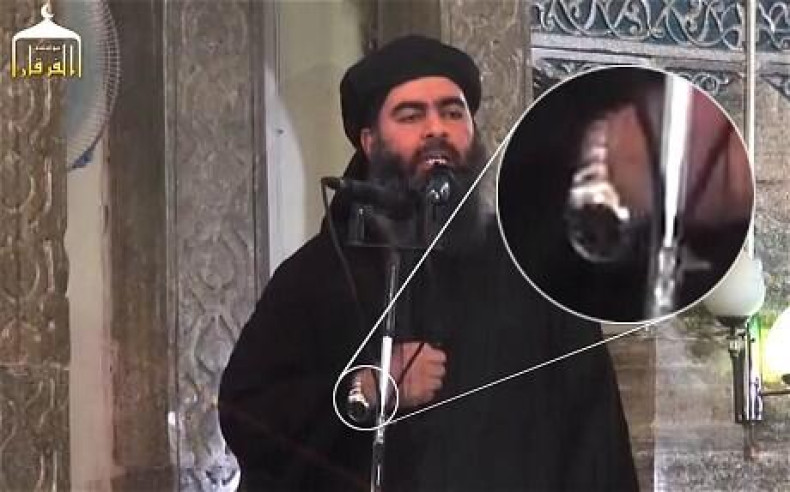 On Friday Isis leader Abu Bakr al-Baghdadi appeared in public for the first time, commanding Muslims to "obey" him as the "Leader who presides over you."
But it was not al-Baghdadi's attempt to evoke the last Caliphs who ruled from Baghdad by donning a black robe and turban that most struck many about the appearance of the elusive militant.
Instead it was the expensive-looking silver wristwatch he is wearing during the 20 minute long sermon.
It is believed to be either a Rolex, Sekonda or £3,500 Omega Seamaster. The choice of such an expensive accessory clashed with al-Baghdadi's austere message and professions of humility.
He said that under the Islamic State's direction the Muslim world would be returned to "dignity, might, rights and leadership".
"I am the wali (leader) who presides over you, though I am not the best of you, so if you see that I am right, assist me," he added.
"If you see that I am wrong, advise me and put me on the right track, and obey me as long as I obey God in you."
Twitter users took to the social networking site to express their surprise at al-Baghdadi's choice of timekeeper.
In his speech at Ramadan prayers on Friday, al-Baghdadi calls on Muslims to join him to help establish the Caliphate, and hailed Isis' victories in Iraq.
"God gave your mujahedeen brothers victory after long years of jihad and patience . . . so they declared the caliphate and placed the caliph in charge," he said.
"This is a duty on Muslims that has been lost for centuries," he said.
Previously, he had only been pictured only twice, once by US forces when he was in captivity in 2005.
The Iraqi government, which claims it killed al-Baghdadi in an airstrike, denies the authenticity of the footage.