The Islamic State (Isis) is reported to have claimed responsibility for an assault in Israel for the first time after three Palestinians carried out shooting and stabbing attacks in Jerusalem on Friday (16 June). The incident left an Israeli border policewoman killed and another officer wounded.
The group reportedly said the attacks were carried out by its "lions", according to a statement on SITE intelligence monitoring group's website.
It added that "soldiers of the caliphate" attacked a "gathering of Jews", and also warned the attack "will not be the last", Amaq news agency, the mouthpiece of the Islamic organisation, reported.
The attacks occurred simultaneously in two areas near the Damascus gate of Jerusalem's walled Old City. At one place, two Palestinians were shot dead by Israeli police after the duo tried to stab a group of officers.
In the second incident, Hadas Malka, a 23-year-old policewoman was fatally knifed to death. The attacker was eventually shot dead by police.
However, Palestinian militant factions denied Isis' claims that the three assailants were members of its group.
A senior official from Hamas claimed the attackers were its own members. The Islamic group which rules the Gaza Strip said Isis meant to sow confusion by claiming responsibility for the attack, Reuters reported.
One of the attackers was a member of Hamas, while the other two belonged to the Popular Front for the Liberation of Palestine (PFLP), a Hamas spokesman said.
"The three hero martyrs who executed the Jerusalem operation have no connection to Daesh [Arabic acronym for Isis], they are affiliated with the PFLP and Hamas," Hamas' Izzat El-Reshiq said on Twitter.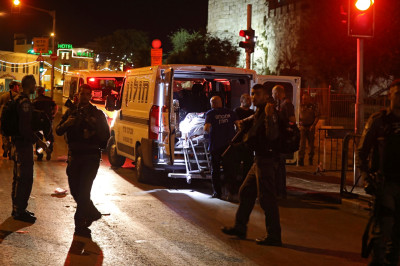 The PFLP also published a separate statement identifying two of the three attackers as its members.
"The media office of the PFLP armed wing mourns two of its hero comrades, two freed prisoners," it said.
Israeli security officials are yet to respond to the claims of both the groups, nor have they disclosed the attackers' affiliation.
The attackers were identified as Adel Ankush, 18, Bra'a Salah, 19 - both from the West Bank village of Deir Abu-Mash'al near Ramallah - and Asama Ahmed, 19, from the nearby village of Tsatfa Ata.
This is the first time Isis has claimed an attack in Israel, although in April it did say it was behind rocket fire from Sinai.