Isis: Man accused of 'witchcraft' decapitated in town square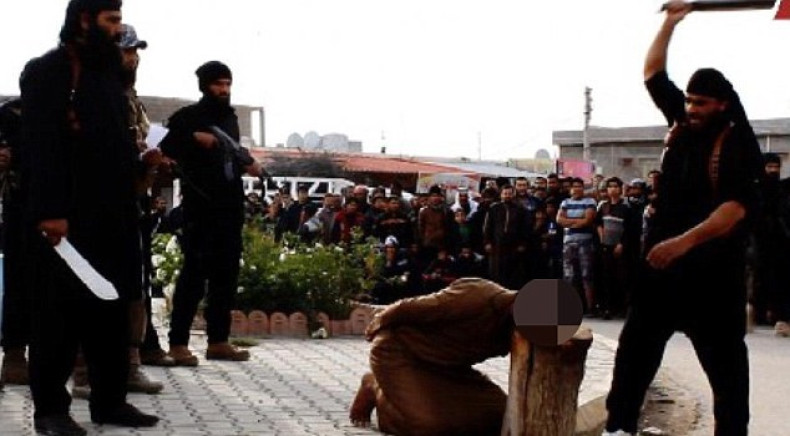 Islamic State militants in Iraq have beheaded a man accused of practising sorcery and witchcraft.
Harrowing images of the killing have emerged on social media and have been shared by supporters of the terror group.
While the exact nature of the crime the victim is accused of is not known, images of his death were uploaded to Twitter claiming that he was a 'sorcerer'.
The first in a series of gruesome photos shows the blindfolded and bound man wearing a brown jumpsuit, as a bearded terrorist wields an 18-inch long kukri machete into the air ready to decapitate the victim.
A second image shows a close-up of the man's lifeless body, with his severed head resting on his back. Brightly-coloured prayer beads, which the man may have been selling, surround his lifeless body. The bodies of British and American hostages beheaded by ISIS' British executioner Mohammed Emwazi, also known as Jihadi John, were placed in the same position.
A huge crowd is gathered at the scene to witness the public execution, with young men and children lining up in a town square and jostling to get a better view as the heinous execution is carried out.
The execution is believed to have taken place near Tikrit in Iraq's Salah al-Din province.
One of the people distributing the shocking pictures is a man claiming to be a British militant fighting for the terror group who goes by the nom de guerre Abu Bakr al-Britani.
Palestinians fleeing the horrors of the Islamic State (Isis) jihadists who have seized the Yarmouk refugee camp in Damascus have recounted barbaric details of the extremist group's practices. 16-year-old Amjad Yaaqub, told AFP that he saw IS members "playing with a severed head as if it was a football".
On March 30, horrific images were released showing Islamic State militants stoning a blindfolded and bound man and woman to death in Iraq. The couple were sentenced to death for having sex before marriage.
IS fighters routinely carry out such horrific executions in accordance with their radical interpretation of Sharia law.
On March 24, thousands of protesters took to the streets in Kabul to demonstrate following the murder of a 27-year-old woman who was accused of burning the Koran.