Afghanistan: Mentally ill woman battered to death by angry mob for burning the Koran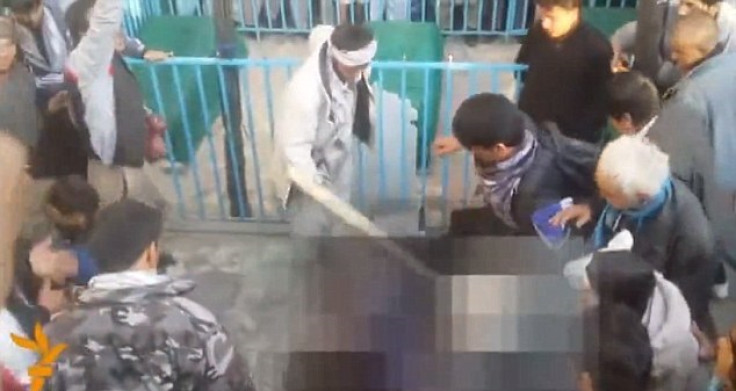 Shocking video has emerged of a woman being beaten to death by an angry mob in Kabul, Afghanistan.
The 27-year-old victim, named only as 'Farkhunda' and who is believed to have been mentally ill, was lynched by a crowd of men near the Shah-e Doh Shamshira shrine and mosque after she was allegedly seen burning a copy of the Koran.
The video of the attack shows the woman being battered, stamped on and beaten and struck with a piece of wood. One of the attackers hurls a brick at her as she lay on the ground, and others are seen kicking and punching her lifeless body. Her body was then taken to the Kabul river where it was burned.
Several of the men in the video can bee seen filming the attack with their mobile phones. The footage later surfaced on social media websites.
Speaking to the BBC, an eyewitness described the incident saying: "I heard noise, I went and people said that a woman is burning Koran. When I went closer I saw angry people shouting they want to kill the woman. They beat her to death and then threw her on the river side and burned her. Firefighters later came and put out the fire and took the body."
The head of Kabul's criminal police General Farid Afzali confirmed reports of the incident and told AFP: "A woman burned a copy of the Koran in the Shahi Doshamshira neighbourhood."
The woman's body was then thrown into the Kabul River, Afzali added.
Officers arrived at the scene and dispersed the angry crowds made up of 'thousands of people' in the area as the incident unfolded.
The victim was accused of setting fire to pages of the Koran, however her parents have told Kabul police that their daughter had suffered with mental illness for many years and had not meant to burn Islam's holy book
The police did not comment immediately on any circumstances that might have led to the attack.
Writing on his official Twitter account, a spokesman for the Ministry of Interior confirmed four suspects had been arrested in connection with the attack.
Interior ministry spokesman Sediq Sediqqi also confirmed the incident, saying a probe into the 'very unfortunate' event was underway.
In the aftermath of the attack, human rights groups have voiced concerns as to whether enough was done to stop the rampaging mob.
Heather Barr, a senior researcher for women's rights in Asia for Human Rights Watch said: "I would certainly hope the government would be trying to arrest and prosecute everyone who was involved and doing an internal investigation into whether the police response was appropriate."
A 2013 U.N. report noted that most violence against women goes underreported, particularly in rural areas.
© Copyright IBTimes 2023. All rights reserved.