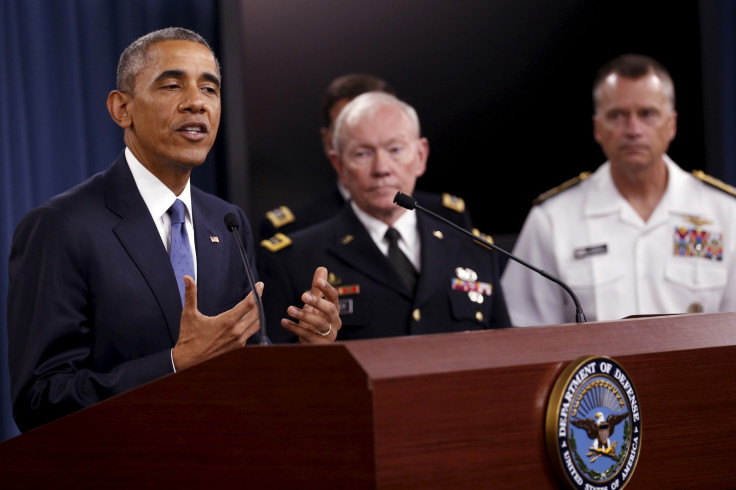 US President Barack Obama spoke about terrorist organisation Isis on Monday 6 July at the Pentagon, saying the Islamic State's "ideology poses a great threat beyond the region." However, the president noted that the group's "strategic weaknesses are real."
Obama pledged to increase US support for the moderate opposition in Syria's civil war, but drew the line at sending in more troops on the ground, Reuters reported. The president also said the US would continue to crack down on Isis's finance operations worldwide.
According to the BBC, Obama emphasised "an effective partner on the ground" was needed to defeat Isis. The president's remarks come after some of the heaviest bombing of the terror group's de facto capital of Raqqa since coalition strikes began September 2014.
"We're intensifying our efforts against Isil's base in Syria," the president said, using another name for Isis. "Our air strikes will continue to target the oil and gas facilities that fund so much of their operations."
The president warned that the campaign against Isis would "not be quick". Obama also said training of ground troops had revved up after a slow period and the fall of Ramadi in Iraq.
"More Sunni volunteers are coming forward," he said. "Some are already being trained and they can be a new force against Isil. We continue to accelerate the delivery of critical equipment, including anti-tank weapons, to Iraqi security forces."
He also noted the threat of attacks on US soil and the need to prevent Isis from recruiting followers from the US. "Our efforts to counter violent extremism must not target any one community because of their faith or background, including patriotic Muslim Americans who are our partners in keeping our country safe," Obama said.
The president continued: "We also have to acknowledge that Isil has been particularly effective at reaching out to and recruiting vulnerable people around the world, including here in the United States. And they are targeting Muslim communities around the world."
Isis militants allegedly regained control of Ain Issa, 30 miles from Raqqa, from Kurdish-led forces on 6 July, the BBC reported. However, a spokesman for the Kurdish Popular Protection Units (YPG) said it continued to resist Isis's attack.
The YPG and Syrian opposition forces seized control of Ain Issa from Isis two weeks ago.