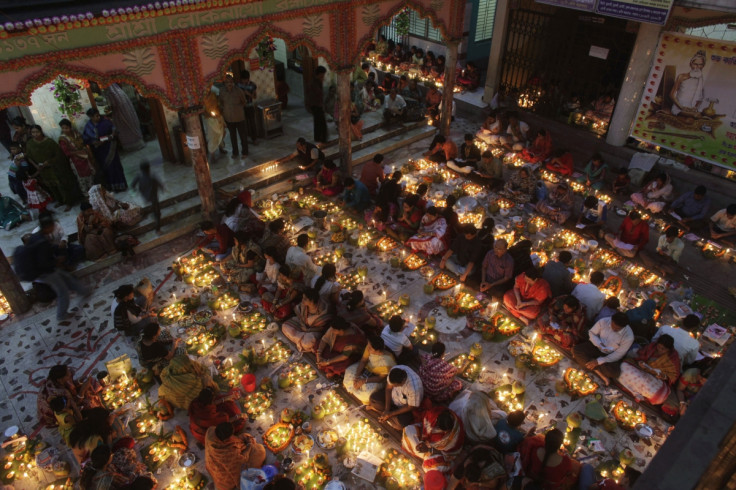 Islamist extremists have slit the throat of a Hindu priest in Panchagarh district in Bangladesh fuelling religious tensions in the area. Police have arrested three men in connection with the brutal murder.
Authorities say two of the arrested men belong to the outlawed militant group Jamaat'ul-Mujahedeen Bangladesh (JMB) while the third suspect is a member of its students' wing.
Jogeshwar Dasadhikari, 50, was repeatedly stabbed by three militants, who were on motorcycles outside a temple in Debigonj. Dasadhikari, a bachelor priest of Sri Sri Shantu Santo Gaurio monastery, was preparing for the morning prayers when the incident took place. The attackers, armed with pistols and sharp weapons, managed to flee the scene. Another person, identified as Gopal Chandra Roy, who rushed to help Dasadhikari, was also shot by the suspects.
"We suspect they (attackers) might be members of the banned Islamist militant group Jamaatul Mujahedeen Bangladesh," senior police officer Humayun Kabir told reporters before the arrest of the suspects.
The so-called Islamic State (Isis) in Bangladesh has also claimed responsibility for the attack. An Arabic statement, according to the intelligence group Site, released by the group reads: "In a security operation facilitated by the almighty God, soldiers of the Caliphate liquidated the priest Jogeshwar Roy, the founder and head of the Deviganj temple that belongs to the infidel Hindus. One of his companions was hurt after being targeted with light weapons in the area of Panchagarh in Northern Bangladesh, and the Mujahedeen returned to their positions unharmed, and all praise be to God."
IS elements have previously launched several attacks in Bangladesh but government and security agencies have constantly denied their presence. The priest's killing is part of a string of such murders rocking the country.
The latest incident which is aimed at terrorising Bangladeshi minorities has also sparked protests in Panchagarh. Scores of people took to the streets demanding strict action by law enforcement agencies to protect the minorities in Bangladesh.