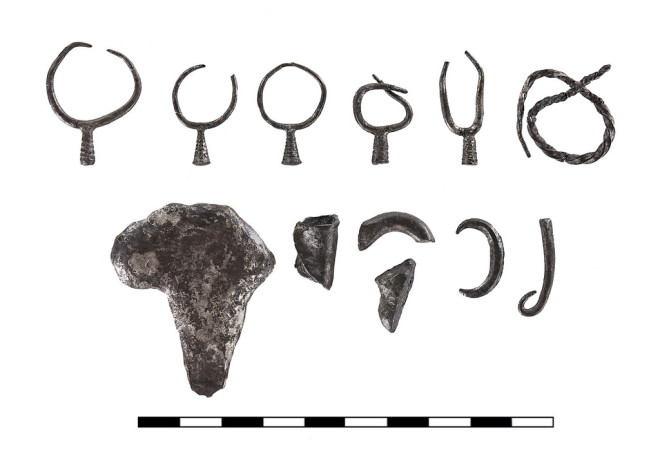 American and Israeli archaeologists have unearthed a hoard of silver jewellery during an excavation at a 35-acre archaeological mound in northern Israel.
The jewellery was found wrapped in plant fibres inside a clay jug at the site of the biblical city of Abel Beth Maacah, located on Israel's northern border with Lebanon.
"The jug and its contents appear to be from the Late Bronze Age, in the 13th century BC, the time of the Exodus and wilderness wanderings," lead archaeologist Robert Mullins at Azusa Pacific University in California said in a statement.
The silver hoard contains five pair of earrings, three earring fragments, three ingots and one twisted piece of sliver that might also have been an earring.
"This is 1 [one] of only 20 silver hoards ever found in Israel, and the only one found wrapped in plant fibers, which helped to protect it," said Mullins.
He added that the site, which he called "an ancient guardian city", had many such treasures waiting to be unearthed.
Last summer the team also found pottery likely to be dating back to the time of King David (1040 to 970 BC), who according to the New Testament is an ancestor of Jesus.
Archaeologists said that both the pottery and the recently unearthed silver hoard suggest that the locations of the digs are much older than anticipated.
Abel Beth Maacah is one of few biblical cities to be explored by archaeologists.
According to Tel Abel Beth Maacah Excavation project, collaboration between Azusa Pacific University and the Hebrew University of Jerusalem, Abel Beth Maacah is identified as an Israelite city in the Bible but has Aramean roots and may have been the capital of the Aramean kingdom of Maacah.
"The city appears to have been the capital of the Aramean kingdom of Maacah before it came under the control of King David," said Mullins.
"This dig can provide clues to a culture we know very little about."