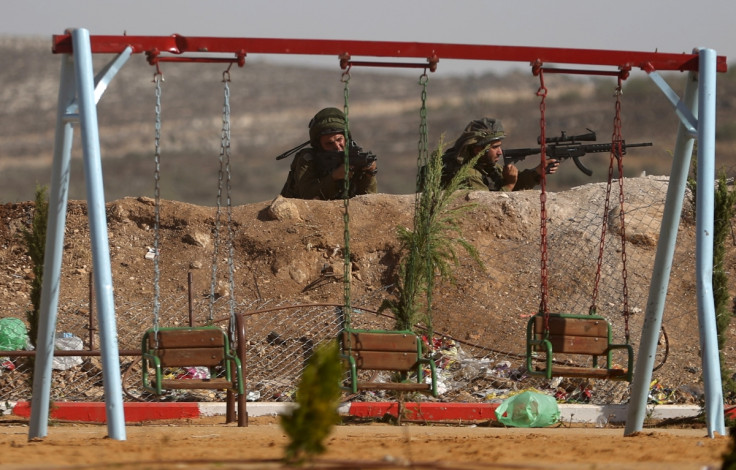 A Palestinian man has stabbed an Israeli officer near a gate of Jerusalem's walled Old City before being shot dead by police in the latest incident of a wave of knife attacks. The assault took place on the predominantly Arab eastern side of the city after border police officers ordered the man to take his hand out of his pocket. The man, only identified as Arab by Israeli police, then attacked the officer with a knife, but the police officer's protective vest safe-guarded him and he was unharmed. Security forces then shot the attacker dead near the Old City's Lion's Gate. It is not clear whether he was a Palestinian or an Israeli Arab.
At least 25 Palestinians, including nine attackers, have been killed by Israeli forces amid dozens of stabbing attacks targeting Jews in the occupied West Bank and East Jerusalem.
On Sunday 11 October, a pregnant Palestinian woman and her three-year-old daughter were killed east of Gaza City. The mother and daughter died when their house collapsed following an Israeli air strike on an alleged Hamas military training camp near their home. Three other people were also injured in the attack. Palestinian rescue services are continuing to search through the rubble for survivors.
The Israeli Defence Force (IDF) said that the air strikes were launched in response to a rocket fired from Gaza. It said that the rocket was intercepted by Israel's Iron Dome defence system and that it had then conducted air strikes on two Hamas weapon-manufacturing facilities in Gaza.
On Saturday, 10 October, a Palestinian teenager was shot dead by Israeli police after stabbing two civilians.
The day before that Israeli military forces killed five Palestinians and injured 19 others at a demonstration near the border fence with the Gaza Strip. The violence was fuelled by clashes at the Al-Aqsa Mosque compound in East Jerusalem, one of Islam's holiest sites. Palestinians fear that Israel is attempting to take control of the site as Jewish groups began visiting the mosque.