Israel Launches Airstrikes on Gaza Strip in Response to Rocket Fire
Israeli airstrikes target Palestinian rocket launchers and a weapons manufacturing as Arab-Jewish tensions rise.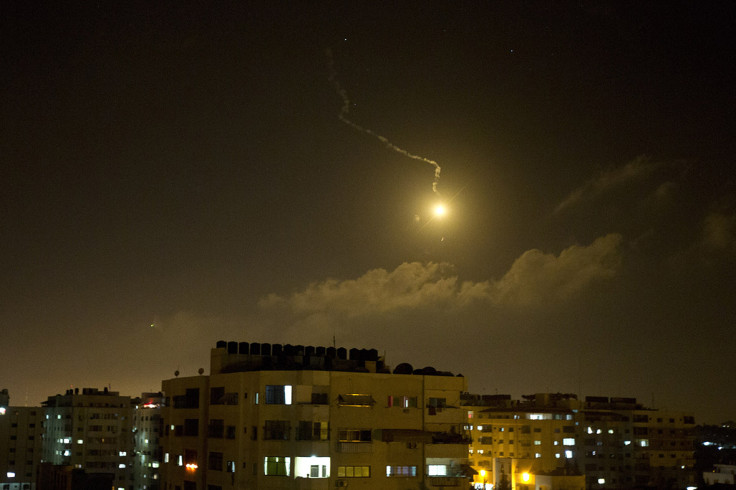 Israel launched airstrikes on 10 sites used by Palestinian militants in the Gaza Strip on Sunday, the Israeli military said.
Palestinian rocket launchers and a weapons manufacturing facility were among the sites targeted in the attack, which came after a rocket was intercepted by Israel's Iron Dome defence system in the southern city of Beersheba late on Saturday.
The military said in a statement: "Following constant rocket fire at Israeli communities in the south, Israeli aircraft targeted 10 terror sites in the central and southern Gaza Strip."
On Thursday, Israel mobilised tanks and artillery forces along the Gaza border in response to intensifying rocket fire from the enclave.
The deployment followed raids on Gaza which were launched after at least 15 rockets hit southern Israel, two of which were intercepted by Israel's anti-missile system, the army said.
The rockets hit two houses in the southern border town of Sderot, with one of the rockets causing a power cut. The Israeli army reported no injuries.
At least 11 Palestinians were wounded in the Israeli air raids on Gaza, which took place as residents prepared for the funeral of 17-year-old Mohammed Abu Khudair, who was kidnapped and killed in East Jerusalem on Wednesday.
Tensions between Israel and Palestine have increased since the murders of three Israeli teenagers on 12 June, which Israel has blamed on Hamas.
Israeli authorities arrested around 600 suspected Hamas activists as part of a wider manhunt, in what has been described as the largest ground operation in the West Bank in almost a decade.
Palestinians believe Khudair's killing was a revenge attack carried out by far-right Jews in response to death of the Israeli youths.
The Palestinian president Mahmoud Abbas said it was clear that Khudair was killed by Jewish settlers and called on Israel to bring the killers to justice.
Israeli authorities are investigating the murder after Israeli prime minister Benjamin Netanyahu called for a swift inquiry into the "loathsome" killing. On Saturday, Palestinian attorney-general Mohammed al-A'wewy said autopsy reports revealed that Khudair was burned alive.
© Copyright IBTimes 2023. All rights reserved.