An Israeli has been killed and another injured when a car rammed into a bus stop in West Bank on Thursday, 6 April. The Palestinian driver has been arrested by Israeli officials.
The Israel Defense Forces (IDF) said both the victims, around 20 years of age, were standing on a pavement when a fast-moving car ploughed into them at the Ofra Junction in central West Bank. The junction is located outside of the settlement of Ofra.
Local reports quoting onlookers said the assailant drove the Palestine-registered vehicle towards a group of Israeli soldiers who were also at the bus station, north of Ramallah. Security poles, which were installed at the location after a similar attack in the past had reportedly saved others who were present at the time of the attack.
"Near him [the dead victim] lay a youth around 20 years old who was conscious and suffered from limb injuries. Together with an IDF medical team that arrived at the scene, we administered aid to him, and he was evacuated with light injuries, fully conscious, to Hadassah Hospital at Mount Scopus," Ilan Klein, an emergency responder with the Israeli state agency, said.
Israeli intelligence agency Shin Bet and local security forces have apprehended the suspect and are questioning him. Israeli authorities had already warned there could be an escalation of violence in the area in the wake of the upcoming Jewish holidays.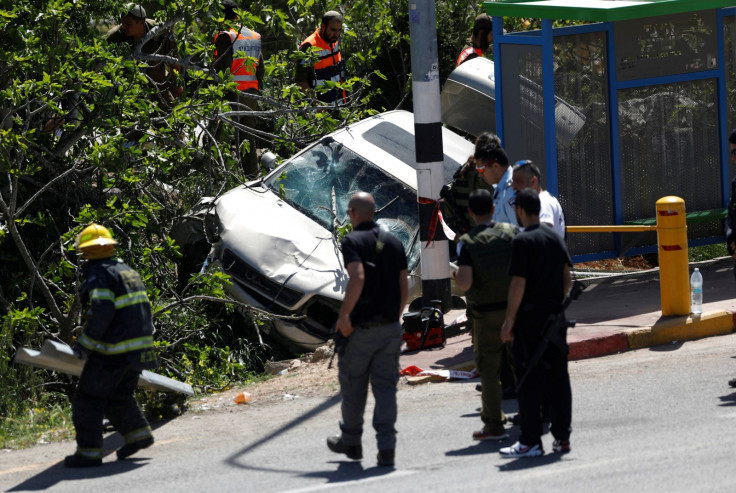 A spokesperson for Hamas, the group that controls the Gaza Strip, quoted by the Jerusalem Post, confirmed the attack was carried out by the Palestinian group. "The Jerusalem Intifada is continuing its work that will only end with freedom. Once again, the Jerusalem Intifada proves that it isn't a passing event, but rather a Palestinian decision to continue the struggle until freedom from occupation" said Hazem Qassim.
On Saturday, three Israelis were wounded following a stabbing attack in the Old City of Jerusalem and the suspected perpetrator, a Palestinian teenager, was shot dead.