Israeli Prime Minister Benjamin Netanyahu says he supports pardoning a soldier who was convicted of manslaughter after he killed an unarmed and wounded Palestinian.
Sgt Elor Azaria was caught on video fatally shooting Abdul Fatah al-Sharif, 21, in the head as he lay unarmed and immobile in the middle of the road. Azaria, an army medic, was convicted in a military court on Wednesday 4 January, saying that he thought the Palestinian still posed a threat when he fired at him.
Azaria, who has widespread support from right-leaning members of Israeli society, will be sentenced next Sunday, Israel's military said, with a custodial sentence likely.
In reaction to the court's findings, Netanyahu said on Facebook: "I support giving Elor Azaria a pardon" before asking citizens to back the Israel Defence Forces (IDF).
Although there was a demonstration outside the court, as the three-hour verdict was delivered, some top Israeli military figures said the 20-year-old's actions did not reflect the values of the IDF and violated the rules of engagement and operational procedure.
Israeli human rights activists and many Palestinians believe the case highlights the use of excessive force to stop attacks on the Israeli army and have accused Azaria of carrying out an extra judicial killing.
In the West Bank city of Hebron on 24 March this year al-Sharif and another Palestinian assailant Ramzi Aziz al-Qasrawi stabbed an Israeli soldier before the pair were shot by troops. Qasrawi died and al-Sharif was wounded in the assault.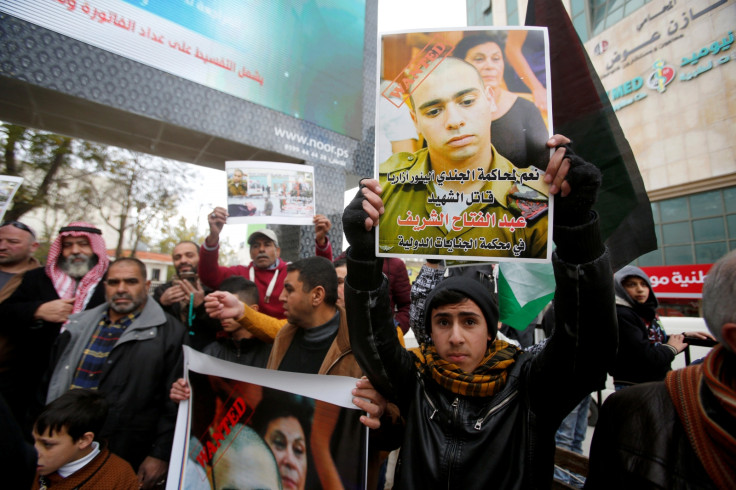 During a clip, recorded by a Palestinian, Azaria is seen standing calmly nearby while al-Sharif lies on the road. Azaria then lifts his rifle and shots the assailant once in the head.
Azaria defended himself saying that he still posed a threat as a knife was still within reach and that he suspected al-Sharif may be wearing an explosive vest.
But investigators said Azaria was heard saying that the injured man deserved to die.
According to the Associated Press (AP), when delivering the verdict in the court in Tel Aviv Col. Maya Heller, head of a three-judge panel, said there was no evidence to support Azaria's claims and called his testimony "unreliable" and said he "needlessly" shot the assailant.
"We found there was no room to accept his arguments," she said. "His motive for shooting was that he felt the terrorist deserved to die."
The court can sentence those convicted of manslaughter to 20 years in prison term although military observers believe Azaria may only be handed a sentence of up to five years.