iTagged is one of the most exciting new social media smartphone apps that have entered the market over the past few months.
The free augmented reality app allows users to capture, share and discover the world around them but unlike ever seen before.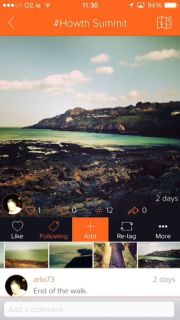 Users can tag and share photos, video and information about their favourite locations; message their contacts; follow breaking news stories on the ground, and share their tags across Facebook, Twitter and the web – but can visually peg them to a virtual map that is accessible to anyone across the world.
The iTagged app is the brainchild of company founder and CEO Keith Jordan. He took his inspiration from a live rugby match he attended, and his desire to not only capture the electric experience in the stadium, but be able to share it with others while viewing their own unique photo and video content.
The app is now active in over 60 countries and Jordan told IBTimes TV that he is now working on a version with Oculus Rift to make the experience "even more Matrix-like".