Ever since Pong tried to recreate the game of tennis in the virtual world in the 1970s, videogames have been trying to replicate ever more accurately the world around us.
Today's multi-million pound AAA titles like Call of Duty and Tomb Raider may seek to recreate the real world in every greater detail, but the reality is that these virtual worlds will never replace the real world.
And so one developer is trying to change that dynamic completely by turning the real world into the biggest game environment ever seen.
Ingress, which has been developed by the Niantic Labs startup within Google, describes itself as a massively multiplayer online (MMO) game - but one which has been transported into the real world.
Explore the real world
The game is the brainchild of John Hanke, the man who helped create Google Earth and Google Maps using technology developed at his company Keyhole which was acquired by Google in 2004.
Hanke wanted to leverage the power of Google Maps to create something entirely different in the gaming industry, something which would allow people to explore the world around them:
"It's unlike any other game out there. It's a game you play with your mobile phone; you have to go outside to play; it's an MMO so you're playing with and against other people and at the most simple level it a game of 'Capture the Flag', but for the entire world," Hanke told IBTimes UK
The premise of the game is relatively simple. Two teams - the Enlightened and the Resistance - are fighting for control of the mysterious 'Exotic Matter' energy which has been discovered emerging from the portals around the world.
Motivated
These portals are actually real world landmarks dotted around towns and cities all over the world. Some have been nominated by the developers at Niantic Labs while others have been submitted by players.
There are no hard-and-fast rules about what can become a portal but most are places of historical interest or pieces of public art.
The game interface overlays these portals on real world maps, allowing players to easily navigate from one portal to the next.
The goal of the game is to get people moving and to help them discover areas of their neighbourhood they normally wouldn't know about.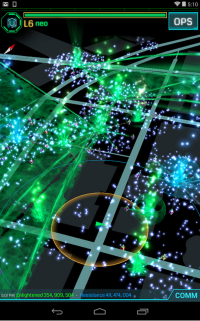 "The goal [for the game] was to take some of that investment in Google Earth and Google Maps, and build a game you could play out in the real world. We were motivated by wanting to take that gaming experience and encourage people to go outside and play and also to use a game to help people discover some of the cool things that are out there in their town or city, or even if they are travelling."
Social surprise
The game has been available on Android smartphones and tablets for a while and to date over five million people have downloaded the app. On Monday, the iOS version launched which will open the game up to tens of millions more potential players.
While you can play the game on your own, like all MMOs it gets better when you play it with others. While thousands of people playing a videogame together is nothing to write home about, when they do it in the real world rather than online, it is clear that something very interesting is happening.
"It's been a huge surprise. The game has been designed as an MMO so we knew that there would be some kinds of social gameplay but what we have seen it that there has been a huge appetite for people to get together in the real world and meet with other players," Hanke said.
Planes, trains and automobiles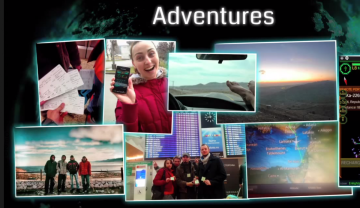 Players are documenting their efforts to take control of portals around the world for their factions, including a woman in Scotland walking over 400 miles to capture portals and a group of players in Moscow travelling all the way to Israel in order to capture a specific object.
One Ingress player even chartered a plane to fly to a remote part of Alaska in order to knock out a portal, narrowly avoiding a weather front. Another Russian player claims to have travelled 80,000 kilometres playing the game - even having to get permission from the Russian secret service to travel by helicopter to a port town in the east of the country.
As well as creating Ingress, Hanke's Niantic Labs has created another location-based app called Field Trip, which is "a guide to the cool, hidden, and unique things in the world around you." As well as being available on smartphones and tablets, the app is also available on Google Glass, and Hanke believes that this could also be the natural home for augmented reality games like Ingress:
"I think that the next generation of mobile devices - wearable devices - like the Android watch and Google Glass are maybe even better for games like Ingress because they make it easier to get in and out of a game while you are out moving around and going about your daily routine," Hanke says.