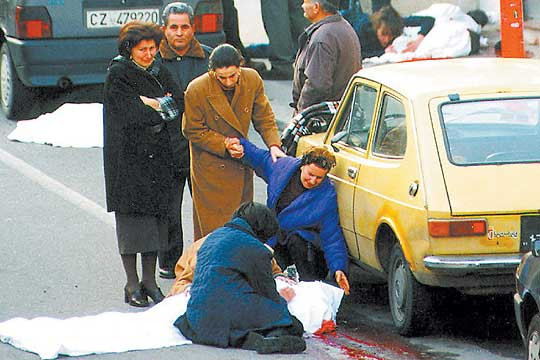 The Italian mafia generate more money than Deutsche Bank and McDonald put together, according to a study by the Demoskopika research institute.
The study showed that the feared criminal organisation earned the equivalent of 3.5% of Italy's Gross Domestic Product (GDP) in 2013.
The Mob's main sources of earnings last year were:
Arms sales, prostitution, counterfeiting and people-smuggling were less lucrative, bringing in less than a billion euros.
The report based its analysis on documents from Italy's interior ministry and police, parliament's anti-mafia commission and the national anti-mafia task force.
The 'Ndrangheta, southern Italian mafia in Calabria region, is thought to have some 400 key "operatives" in 30 countries, but its activities are believed to involve as many as 60,000 people worldwide, the report said.
With its network of hundreds of family gangs based around the southern city of Calabria, 'Ndrangheta is even more feared and secretive than the Sicilian "Cosa Nostra" (Our Thing) mafia.
Speaking about the main mob groups; 'Ndrangheta, Cosa Nostra and Naples-based Camorra, Giovanni Barruzzi, the security police director at the Italian foreign ministry said: "They invest only 10% of this budgets in Italy, the rest they invest in countries in Europe and elswehere. They have good friends everywhere."
Barruzzi added the Mafia's annual income has now surpassed €200bn (£166bn), up to 42% from the 2012 figure.
Riccardo Guido, who works for Italy's Parliamentary Anti-mafia Commission, warned against the widespread tendency in Italy to ignore the existence of vast and powerful criminal networks.
"Instead of politicians and people in the local economy combatting it, they continue to say - particularly in the north of Italy - 'Here the mafia doesn't exist'," he told newspaper The Local.
It is now time for business and political leaders in Milan, Italy's financial capital, to admit the city has been infiltrated by criminal networks, he added.
Pope Francis has also called on Italy's mafia groups to "stop doing evil".
"There is still time to avoid ending up in hell, which is where you are going if you continue down this path," he warned mafiosi.